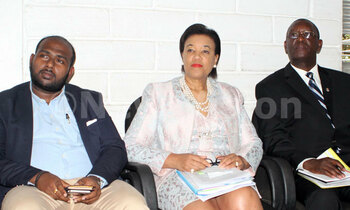 Pius Bigirimana ,the Permanent Secretary for Ministry of Labour, Gender and Social Development has said 74% of the funds in Youth Livelihood Programme (YLP) that were given out to youth groups involved in various activities has been paid back.

He said sh84.5b has been disbursed to youth groups since the programme's inception in 2014, saying sh11.6b has been collected countrywide. He said the programme will alleviate poverty in communities.

Addressing the media at the Uganda Media Centre in Kampala about the upcoming Common Wealth Youth meeting, Bigirimana said YLP is one of the interventions the Government has undertaken to create jobs for the youth.

He highlighted on some challenges facing the programme such as corruption at district and sub-county levels, and failure to follow guidelines by youth groups. He also said some youth have disappeared with funds.

"There should be a great level of responsibility by the youth. Some people get money and vanish with it, this makes other groups delay or fail to benefit from the project. They must acknowledge that it's a revolving fund," he said.

Bigirimana added that soon the government will review the programme and reduce the numbers of youth in the group from 15 to about five or six. He also said the mode of distribution will also be looked into and change it if necessary.

"The youth complained that district officials solicit bribes from them before taking the money and soon we shall be delivering the money directly to the youth," he stated.

Recently, Janat Mukwaya, the Minister for Gender Labour and Social Development visited several districts such as Kisoro, Ntungamo and Mpigi. She found out that many youth groups had engaged in diverse activities.

While in Kisoro, Mukwaya warned extension workers and community development officials over the alleged neglect of Government programmes. She said they had failed to monitor youth activities as well as failing to sensitize the beneficiaries and this has hampered the successes of programmes.

About the upcoming Commonwealth Ministers Youth Meeting, Patricia Scotland, the body's Secretary General said it's aimed at forging a way forward on how effectively mitigate several issues affecting the youth such as unemployment.

"Youth need to be brought on board and financed so that they start enterprises that will in turn boost their income as well as create employment to their colleagues," she said.