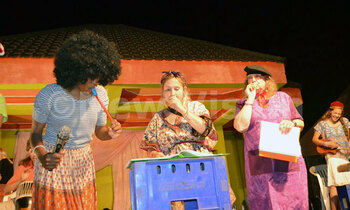 Fry Sauce, a visiting musical ensemble from Utah, USA, has taken the ideal of international human solidarity to a higher level by staging a free musical concert for Ugandans. The concert took place at Satellite Beach, Mukono, on Monday.

Despite the relatively low turn-out, the 2-hour evening show was highly exciting. David Nicholson, the Band's lead guitarist/vocalist gave the show a free-style character.

Much as it was his first time to be in Uganda, Nicholson connected well with his fans. He shared with them stories and jokes. He also explained the genesis and circumstances of the respective songs that were being performed. Nicholson further preached the gospel to his audience, urging them to acknowledge Jesus' unrivalled love and providence to humanity.

Although the ensemble was gospel inclined, its repertoire also included popular secular songs like We are the World and Lucky Dube's Different Colours, One People, which carried messages of unity and human solidarity. The ensemble also performed common Christian songs like Amazing Grace, which highlighted Jesus' salvation.

At times the performance became operatic as members of the ensemble acted out some funny songs. They put on silly costumes and played funny instruments as they performed Bobby McFerrin's Don't worry, be happy.

There was some sorrowful moment as the band played songs of departed American musicians like Whitney Houston and Michael Jackson, in tribute to them.

At the close of the show, the visibly impressed revellers mingled and interacted with the band members. New friendly relations had been established between the American musicians and their Ugandan fans.