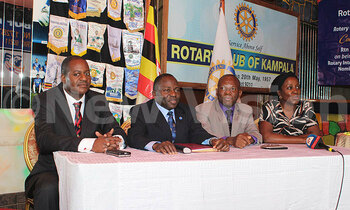 PIC: From left: Rotary Club of Kampala Shem Nnaggende Nsubuga, Past District Governor and Chairman of Sam Owori Funeral Organizing Committee Stephen Mwanje, District Secretary Francis Ssentamu and PR Anne Nkutu during a press briefing on the funeral arrangements of the late Sam FOwori in Kampala. (Credit: Tony Rujuta)

MEMORIAL

KAMPALA - Rotarians in Uganda have opened up a memorial polio fund in honour of the late Sam Owori.

Owori, who was Rotary International president-elect, died unexpectedly at the age of 76 as a result of post-operative complications from a planned surgery in the United States.

Addressing journalists in Kampala, Rotarian Stephen Mwanje, a past district governor 9211 who fronted the idea, said that all the campaigns meant to end polio in Uganda that rotary was involved in were Owori's brains.

"You might not have seen his face but the end polio campaigns we got involved in were his ideas. If it was not for Sam's guidance and knowledge, we would not have achieved some of the projects you are seeing like the heart institute.

"As rotary, we have set up a fund to give life to the children of Uganda as Sam wished," said Mwanje.

Mwanje also noted that as rotarians, they are going to use Owori's death to get more funds for their projects and also to continue growing big. He called upon Ugandans to stop speculating that Owori's death was planned.

"There is no reason to suspect foul play. Nobody will be interested in killing Sam so please stop the speculations," he said.

Asked what next after the passing of a global leader, Francis Ssentamu, the district secretary of rotary club of Kampala said that they are going to also work hard like the late did to see that they rise like he did.

"We have seen that with hard work, commitment and dedication, we can also become international leaders," he said.

During the conference, rotarians also announced the upcoming cancer run that is scheduled to take place on August 27 in all districts in the country.

Owori's body is expected in the country on Monday ahead of burial on Saturday in Tororo district.