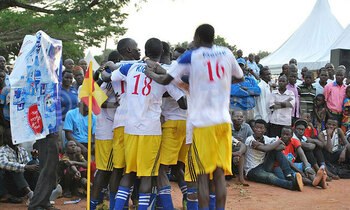 (Credit: Bruno Mugooda)

BUSOGA MASAZA CUP

Opening match result

Bukono 0 Kigulu 1

NAMUTUMBA - A 30-yard freekick by Alimansi Waisswa in the 62nd-minute handed away side Kigulu a 1-0 victory over Bukono in the opening game of the Busoga Masaza Cup.

Kyabazinga of Busoga Wilberforce Gabula Nadiope presided over start of the second edition of the Busoga Masaza football tournament at Bukono playground in Namutumba district.

"It's an honor to score this all-important goal in front of such a big crowd but most important of all, in front of my king," said Waisswa after the game.
The match was played in front of thousands of spectators who came to witness Busoga's most prestigious football competition.

Action resumes next Saturday at Nawanyago Primary School when Buzaya host Bugabula, while at Luuka district headquarters, Luuka will host Budiope.

FIXTURES

July 29

Buzaya v Bugabula at St Mary's primary school play ground at Nawanyago

Luuka v Budiope at Luuka district head quarters

August 5

Bugweri v Bukoli South at Busembatia

Bunhole v Butembe at Bugadhe

Bugabula v Luuka at Kamuli Municipal pla ground

Budiope v Buzaya at Bukungu