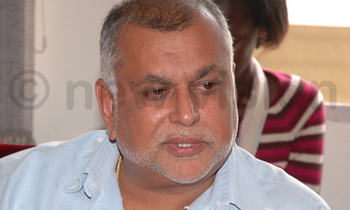 CLICK HERE TO READ THE E-PAPER

Former PS Jimmy Lwamafa and two other Public Service officials are facing fresh pension fraud.

- They were earlier convicted of stealing sh88b pension funds. This time, the amount is even higher.

- Do not miss this story.

Two top Police detectives have been arrested for allegedly conning about sh140m from a Chinese national.

- Get details on how the Chinese man was fooled and how the two suspects were arrested.

Sudhir has received summons to file his defense in a case filed by the Bank of Uganda.

- Get details on why the Central Bank insists that Sudhir should pay over sh337b.

No more examination leakages, UNEB says.

-Find out how a new printer will give UNEB more control over exams.

The historical Lake Victoria Hotel in Entebbe faces demolition.

- Find out what the problem is and efforts to save this grand hotel.

MPs are querying the increase in the inspection fees for vehicles.

- Find out what SGS was supposed to charge for each car and how much it is charging now.

Find out why MPs are accusing the finance ministry of frustrating the programme to pay the elderly across the country.

Lands state minister Persis Namuganza is in trouble again over public remarks against a top political leader.

- Get details of the case and why this leader is determined to drag Namuganza to court.

The Housing Finance Bank is seeking sh30b more from the Government but MPs are querying its high interest rates. Find out what is going on.

New Vision brings you the tough conditions the Police have issued for DP meetings and why 14 DP supporters were detained in Kampala.

Find out why 59 FDC supporters have been detained in Nalufenya.

From America, we have a list of President Trump's promises and how much he has done in six months.