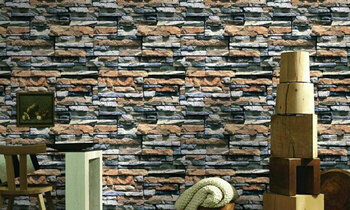 Wall paper has taken over paint in the interior décor. The trend is now taking over offices, salons and night clubs.

Dennis Katende, a civil engineer, says wallpaper's roots are in France where it was done on stone. However, wall paper has been modernized from stones to walls of homes.

With the many distinguishing characteristics as compared to paint, wall paper is very durable and can resist all weather conditions.

It also has varieties such as 3D effects and illusions, geometrical shapes, fox bricks and plain wallpaper which bring a good sense of decoration in a home than paint would have done.

Bashir Masembe, wall paper designer, says there are many varieties of wallpapers as each room in the house has specific wallpaper that modifies it and differentiates it from the rest.
Wall paper comes in many varieties like silk vinyl, Embossed, unwoven, plain and textured wallpapers.

A roll of wallpaper costs between sh50,000 and sh200,000 depending on where it is bought from.

Masembe says the wallpaper must be put up by someone experienced in interior designing, home staging and fabric decoration.
Factors to consider when buying wallpaper

Durability: Wallpaper can last 10 to 15 years, giving great sustainability and reliability to a home where it is used and looked after carefully.

Risks involved

Removing existing wallpaper can be a tedious task and requires patience and the right tools to be effective. Stripping wallpaper can be done with chemicals or stripping tools, but care must be taken or damage the wall.
Since wallpaper is applied with an adhesive, high moisture bathrooms and kitchens may cause wallpaper to peel off.