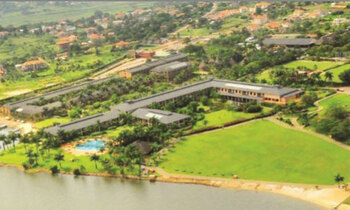 PROPERTY | SUDHIR

Embattled property mogul Sudhir Ruparelia has agreed to surrender some of his prime properties to the Bank of Uganda in order to settle the sh400b bank fraud case out of court, New Vision has learnt.

Bank of Uganda, through Crane Bank, has sued Sudhir and his Meera Investments on behalf of Crane Bank, which is under receivership of the regulator, to compel the property mogul pay back over sh400b he allegedly "extracted" from Crane Bank before it was taken over.

Under the mediation scheme that the Judiciary is currently promoting as an alternative for court action, Sudhir has a window of opportunity to avoid a gruelling court battle if he pays back the money.

Bank of Uganda, according to sources, has indicated that it will withdraw the case if Sudhir agrees to pay back the money. BOU has spelt out the terms for an out-ofcourt settlement.

The Bank of Uganda wants Sudhir to pay back $70m and sh60b. This means he has to pay sh311b, if he agrees to an out-of-court settlement. "The BOU is demanding that Sudhir pays back the money within this financial year.

BOU wants him to immediately pay $18m in addition to the titles of his properties as security that he will pay back the money," sources said.

"The BOU has indicated it is not interested in disposing of Sudhir's assets, it only wants him to pay back the money he took from Crane Bank."

Property surrendered
Impeccable sources privy to the matter told New Vision yesterday that Sudhir has written to the BOU, saying he will surrender his prime property; Speke Resort and Conference Centre, a five-star hotel.

He has also offered to surrender his shareholding in Munyonyo Commonwealth Resort, which he jointly owns with the Government, though he is the majority shareholder.

Sudhir had reportedly earlier offered to hand over other assets which were rejected as not being substantial enough. The Government originally owned a 25% stake in the Munyonyo Commonwealth Resort, according to the Auditor General. Initial reports in 2007 indictated the resort cost $30m (sh107b).

Besides the two resorts, Sudhir is also offering his Bauman House on Parliamentary Avenue currently being rented by the Ministry of Justice and Constitutional Affairs. If the BOU agrees, Sudhir would recover the assets after paying back the money. Speke Resort and Munyonyo Commonwealth Resort sit on 76 acres on the shores of Lake Victoria. In 2013, the property's

value was estimated at $160m. But Government still retains a stake in the Munyonyo Commonwealth Resort. It is said that through Meera Investments, Sudhir owns at least 300 residential and commercial properties. Its net worth was previously estimated at $600m (over sh2 trillion)
BOU rejects five-year period
But there is still a disagreement. Sudhir wants to be allowed to pay back the money over a period of five years, which BOU has rejected.

"This is not acceptable to BOU. The Government had incurred money on Crane Bank and needs to recover it this financial year," the source added.

Other sources said Sudhir had been advised by close business associates to avoid a protracted open court battle that may bring out a lot of damaging information.

"Sudhir's business associates are advising him that it is not a good idea to pursue the court battle," sources said, explaining Sudhir's offer to BOU to settle the matter outside court.

A senior judge, David Kutosi Wangutusi, has already been assigned the case. Wangutusi is the head of the Commercial Division of the High Court.

Associates implicated
In the court document, Sudhir's associates named in the alleged massive fraud include Godfrey Kirumira, Jitendra Sanghani, and Rasiklal Chhotalal Kantaria, a prominent Kenyan banker and tycoon. Premier Commodities Limited, a company linked to Kirumira, is named as one of the companies Sudhir used to conceal his unreported 100% shareholding in Crane Bank.

BOU states that Sudhir, who was the Crane Bank director and vice chairman of its board of directors since its founding in 1995, owned 100% of the shareholding in the financial institution, but fraudulently sold shares to his fronts, who he reportedly used to siphon money from the (bank).

Crane Bank take-over
BOU took over the management of Crane Bank last October on grounds that the financial institution was undercapitalized and posed a systemic risk to the banking industry. However, in January this year, BOU transferred the assets and liabilities of the troubled financial institution to dfcu Bank.

BOU investigation has revealed that Sudhir siphoned over $92m and more than sh8.2b from Crane Bank over a period of years. The court has issued summons to Sudhir and Meera Investments to file their defence. In a July 3 notice, the court directed the two defendants to file their defence in 15 days, starting from the date of service of the summons. They were served on Monday this week.

The BOU says Sudhir siphoned money from Crane Bank and channelled it to companies and individuals associated to him. The court documents show that some accounts were created within Crane Bank but were deliberately not mapped onto the profit and loss statement or balance sheet of the financial institution.

The tycoon reportedly took out of the bank over $3.5m and more than sh8.2b on December 27, 2014, disguised as credit facilities to Infinity Investments Limited and eventually written off. Infinity Investments Limited is reportedly owned by Sudhir.

Sudhir reportedly fraudulently transferred freehold titles of 48 plots of land purchased and developed using the Crane Bank's finances into the names of Meera Investments.

The plots of land, according to the court documents, were then reportedly leased to the owner (Crane Bank) for 49 years at a $6,000 in ground rent per year for each plot.

In the court case, BOU wants Sudhir to refund sh52b in workers' savings that he did not remit to the National Social Security Fund between 2007 and 2016.