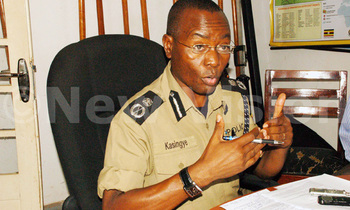 In efforts to reduce the increasing road accidents, Police have re-launched the popular 'Fika Salama' traffic operation on all major roads.

Addressing Journalists at the weekly police press briefing at the police headquarters in Naguru, the force's publicist, Asan Kasingye said this is meant to enforce traffic discipline back on the roads.

"Today we are getting more accidents yet during the operation 'Fika Salalama' they has reduced. Today people are reckless and do not respect traffic regulations anymore," he added.

He said they want ensure road users adhere to the Traffic and Road Safety Act.

"We are emphasizing among others cases such as over speeding, reckless driving such as overtaking, overloading, driving without valid or no permits, poor mechanical conditions of vehicles among others," he noted.

Kasingye said all traffic offenders will be taken to courts of law except in limited circumstances where the Express Penalty Scheme (EPS) will be given.

He cited the Karuma Bridge incident in which a truck and three occupants plunged into the river. He said this was as result over speeding where a driver failed to control the truck.

Last week a team of police Flying Squad Unit members got involved in an accident and one officer died instantly at Towei Corner Sipi Parish after the driver lost control and failed to negotiate the corner.