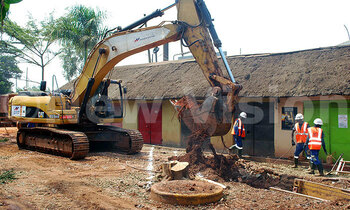 (Credit: Lawrence Mulondo)

KAMPALA

The National Water and Sewerage Cooperation (NWSC) has started laying pipes for the establishment of the sewer line on Centenary Park along Jinja road in Kampala.

According to Alex Gisagara, the director engineering services at NWSC, the whole installation task will take at least 14 days.

"This involves pipe-laying and re-instatement. The current pipes were installed about 80 years ago when Kampala had a population of less than 300,000 people. The population has now grown and expansion is inevitable," he said.

Demolition of structures started on Monday by Dott Services Limited tractors to pave way for construction of a sewer line, flyover and high voltage power lines and since then about two acres have been demolished.
Tuesday morning, police remained on guard at the site where most of the tenants had left whereas others are still preparing to leave.

Gisagara said the sewer line at Centenary Park is part of a 37km project that will cover different parts of the city such as Kinawataka, Nakivubo, Ntinda, Kyambogo among others, which he said will run up to February next year.

He said the overall project is being done at a cost of over €3m (over sh12b).

Gisagara said the sewer line will reduce water flooding along the Wampeewo roundabout and Jinja road traffic lights junction, adding that all structures sitting on sewerage lines have been demolished to pave way for project.

"All rain and waste water from Kololo and other higher places converge at Wampeewo roundabout especially during rainy seasons. With the construction, we shall have manholes to receive the water, the flow will then go into a larger sewer pipe along the Electoral Commission to the sewage treatment plant."
Erick Wassajja, a worker who was found at a demolished building packing up utensils and tents to vacate the place, said he woke up on Monday hoping to work as usual but was shocked to find structures being demolished.

"I will try to look for employment but it's not easy. For now I am jobless," he said.

Another worker identified as Rashid Lumeriga told New Vision that the government should in the near future provide startup capital for the tenants whose property has been destroyed. He said this can be done by giving funds to the groups or individuals.

"Properties worth millions have been destroyed. Government should compensate them so that they remain in business. Some of us don't have a way forward following the demolition."