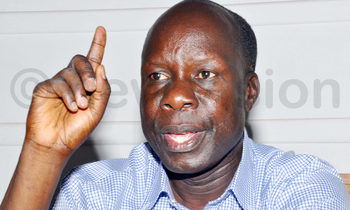 POLITICS

National Resistance Movement (NRM) electoral commission chairman Dr. Tanga Odoi has cautioned security minister Gen. Henry Tumukunde to steer clear of Tororo affairs.

"I want General Tumukunde to get warned that the time of Tororo getting divided is over. We are not divided, we shall not be divided, and we don't want to be divided.

"His work is minister of security. He should keep on security and the Tororo issue is a ministry of local government affair," said Odoi.

"We don't want sinister motives here General Tumukunde, you have intimidated our MPs, you have intimidated me and I am not easily intimidated. The world should hear what we are talking about is peace and not war. Tororo has no insecurity and therefore every minister should do what their docket demands."

Odoi made the remarks during a thanksgiving ceremony for West Budama South MP Jacob Oboth Oboth at Rubongi sub-county headquarters at the weekend.

During the ceremony the Rubongi LC3 chairman handed over instruments of power to the municipality mayor John Opio amidst cheers from residents.

The Speaker of Parliament Rebecca Kadaga was expected to preside over the function but said she was preparing for the burial of fallen Iganga district Woman MP Grace Hailat Saudha who died Friday.

Odoi said no amount of intimidation will make them lose sleep, saying they are going to use lawyers to settle Tororo issues.

He also accused Tororo County South MP, Fredrick Angura, and minister of state for health in charge of general duties, Sarah Achieng Opendi for causing the insecurity.
This is the second time that Odoi is publicly attacking Tumukunde for allegedly fuelling confusion in Tororo district.

During a consultative meeting held at Mahanga Primary School in Nagongera Town Council on June 18, Odoi accused Tumukunde of misinforming the President Yoweri Museveni regarding the facts on the ground.

"There is no disharmony in Tororo but everything has been fuelled by the security minister who went and misinformed the president that there is fire in Tororo, hence pre-empting the president to assume that Tanga had a hand but I would like to inform the public that I have my constitutional right to associate and no individual has a right to say I'm banned from coming to my home," said Odoi.

His comments come at the time when President Museveni is set to meet two delegations of the Japadhola and Iteso at his country home in Rwakitura on Tuesday to try resolve the conflict between the two tribes over the division of the district and Tororo municipality.

This is the second time Museveni will meet the two communities, having met them at Kisozi ranch on May 30 where he asked for time to enable him consult with technical officers to establish where Tororo Municipality falls.