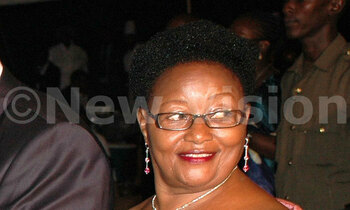 Gera Mosha, the proprietor of Bon Appetit chain of restaurants in Kampala and ex-wife to former Kampala Mayor Al-Haji Nasser Ntege Ssebagala, has died.
According to Ssebagala, the wife who has been battling Pancreatic Cancer, died on Saturday morning at her home in Muyenga Kampala.
"She died this morning at about 8:45am; she has been suffering from pancreatic cancer. We took her to South Africa and America for treatment, got better and brought her back, but unfortunately she has died," Ssebagala told New Vision online on Saturday.
Ssebagala and Gera Mosha got engaged in 1979, after Ssebagala's first wife died. According to Ssebagala, after the death of his wife, Gera took care of his then young children and raised them up.
However, by the time of her death, Ssebgala and Gera were not staying together.
In June 2006, New Vision interviewed both Gera and Ssebaggala about their relationship. Below are the exerpts

Was he your childhood choice?

I used to like smart guys and he is. He is also lovely, knows what he wants, focused and open-minded.

When he married Naava Nabagesera, had you consented?

No! Naava had stolen my husband. Hajji was seduced; he didn't intend it; it was a mistake. I forgave him when he confessed.

But would you let him marry another woman?

As long as I am still alive, I would never, because love cannot be shared. Nobody should deceive you that they will love two people equally.

Does politics interfere with your love life?

Yes. My husband is always on tension and the pressure makes him restless. Sometimes we don't spend enough time together. However, it gives him satisfaction. When I hear people mimicking and teasing my husband, I become mad. It is like beating me. No man is perfect. I think they should give him credit where he has succeeded.

How did you react to his arrest?

It was bad, but I visited him twice a week and I gave him all the support. I have never abandoned him and I will never.

Love or money; which one is more important?

Money, of course. Money is the central point of everything in life. No one eats love! You cannot date someone on saliva. If you visited a girlfriend every day without money, she would be bored and even call you names like Ffenne and superglue.
Is Sebaggala at home different from the one we know on the political scene?

My husband has a big heart. He never lies and that is pretty good for me. Forget about the one you see at rallies, at home, he is so quiet. If he finds me asleep, he does not disturb me. He does not stop me from going out. I think that is what keeps us happy and the fact that we are both busy most of the time.


Ssebaggala on Gera

What keeps you and Gera so close together?

Her patience and love. She has always stood by me. I have been in prison several times, but she has never abandoned me. I went abroad to study for three years, but she kept our love burning. She has been a responsible wife and she has educated our children.

So, being jailed changed your love life?

I have been jailed several times and each time has made our love stronger than before, because it pushed me closer to her. The way she cared and tried to rescue me was encouraging. I realised she was mine forever.

Do you insist that she kneels when greeting you?

No. I am a modern man. She does what pleases her. Kneeling is optional.

With no sex in prison, how did you cope?

Once someone's freedom is taken away, it hurts, but one adjusts with time. It becomes normal and one will abstain until they leave prison.

What made you a ladies' man?

I am not only popular among females; I have so many male fans. But I know some people call me soda w'abakyala. Maybe because I am always smart. Smartness is a virtue. I am so particular with my suits. I only consider the quality not price. Most of my suits are from Italy, France and Germany. They cost between $1,500 (sh2.8m) and $2,000 (sh3.7m).

How romantic were you as a young man?

We would compete for all the beauties we came across. I used not to fear public eyes. I would talk to every beautiful girl I met. Things have changed a lot! Today, I first judge the audience before I do anything! And I am committed to my family.

Do you miss that time?

That time was exciting. We had a lot of freedom, but after getting children, everything changed. One has to divide their time between his children and wife. Even my wife does not have enough time to attend to me as she used to. Politics also takes a lot of my time.

How do you keep your family together?

Patience! Life is not a straight line. My father told me that if you want 10 things and someone gives you seven, you should accept and be happy.