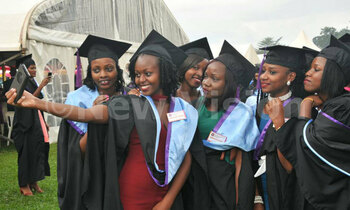 Uganda Christian University has graduated 1,136 students with diplomas, bachelor's degrees, post graduate diplomas and master's degrees. Out of the graduates, 50.1% are male students and at least 43 students acquired first class degrees.


The 18th graduation ceremony has been graced by the Archbishop of the Church of Uganda, Stanley Ntagali who asked the government for tax waivers to not-for-profit universities.


Ntagali said the unfair taxation to the institutions of higher learning has crippled the operations of the not-for-profit universities.

He said it is unjust for the government to require high standards of these institutions while simultaneously paralyzing them through taxation.

The chief guest, John Muwanga, the Auditor General, highlighted the importance of learning, saying with the rapid changes in technology, it has become necessary to adopt new skills and dump the obsolete ones.

"It is agreed that to stay relevant to the constantly changing environment, one must not only know how to read and write, but also needs to know how to learn, unlearn and relearn," he said.