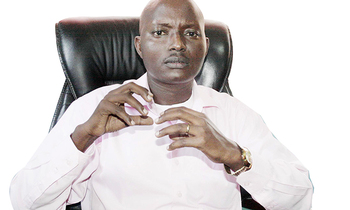 Head of the Born Again Faith in Uganda Dr. Joseph Serwadda together with Bishop David Kiganda are key witnesses in a case where Pr. Aloysius Bugingo is accused of burning the Holy Bible.

Among other witnesses are Pr. David Martin Sebuguzi, Ronald Mukiibi, Pr. Stephen Kaberuka and Bishop Joshua Murefu. Nabweru court chief magistrate, Esther Nasambu will preside over the case.

Meanwhile, Nasambu has given Bugingo 15 days to file his defence on allegations of violating Christian's freedom of worship by burning several versions of the Holy Bible.

"You are required to file a defense within 15 days from the date of service of summons on you," She ordered.

Nasambu warned that should Bugingo fail to file his defence on or before the date, the plaintiffs - veteran actor Kizza Aloysius Matovu and Evangelist Francisco Semugooma will proceed with the suit and judgment will be delivered in his absentia. Semugooma is an author of Christian books.

The duo dragged Bugingo to court through Wameli and Company Advocates last week.

In their suit, the duo representing over 200 Christians, who subscribe to the Holy Bible are seeking a court declaration that Bugingo's acts or omissions of burning and destroying the Holy Bibles is illegal and unlawful, as it injures their religious feelings.

The duo also contends that Bugingo's actions tantamount to an attack and insult of all Christians who believe in the Bible.

They wants court to issue a permanent injunction, restraining Bugingo and his servants from further burning and destroying Bibles of several versions and making utterances, speeches, sermons or statements concerning the Holy Bible in a way that attacks, violets or insults their faith or religion.

A permanent Injunction is a final order of a court that directs a person or entity to refrain from certain activities permanently or take certain actions until completed.

They also want court to award them damages at a rate of 25 percent from the date of judgment until payment is done and costs of the suit.

Court documents indicate that on April 4, 2016 (Easter Sunday), Bugingo collected or gathered several Holy Bibles of different versions, translations and languages with the word Holy Ghost or missing scriptures and advised his flock or followers who are 'not strong' to burn or destroy it.

Bugingo, according to the plaintiffs, says that lines talking about the Fasting and Lent, in general, were erased and that the word "Holy Ghost" appears a whopping 99 times yet the word "Holy Spirit" appears only seven times.

They say that Bugingo has on several occasions depicts that 'Holy Ghost' refers to an evil spirit and not the 'Holy Spirit', which they say is not only false but also an insult and attack on their religion.

But, the plaintiffs say that the terms 'Holy Ghost' and 'Holy Spirit' are the same and they refer to one or same person.

According to the lawyer of the plaintiffs, Anthony Wameli, Bugingo is targeting Holy Bibles such as the King James Version, Good New Bible, New International Bible and American Standard Version.

He added that Bugingo abused the Bibles by calling it a novel, counterfeits and bibles from homosexuals. "It is bad to burn the bible because it is an item of worship".

Bugingo, the pastor of House of Prayer church in Makerere, Kikoni three months ago was at the centre of public debate when photos of burning heaps of Bibles went viral on Social Media sites, with religious leaders criticizing him for allegedly burning and ordering the burning of all Bibles that contained the word 'holy ghost'.

This forced his followers to deny Bugingo was nowhere near the Bible burning photograph.

But, Bugingo has since then refuted the claims, saying that photos of burning bibles were photo shopped by his enemies who opted to use his voice to defame him. Still, he said he wants to start a publishing house to print "correct versions" of the Bible.

Who is Pastor Bugingo?

Born on November 25, 1972 in Masaka, Bugingo is a self-confessed pastor trading under the name and style of House of Prayer Ministries (HPM) and he runs a church at Makerere-Kikoni in Kawempe division, a Kampala suburb.

His church congregation comprises of over 10, 000 members per meeting or sitting, mainly students from Makerere University and institutes of higher learning in Wandegeya campus.

Bugingo also manages Salt FM radio, broadcasting on 107.0 FM and Television under what he calls the Salt Media Department.

He also created the Salt Media Platform, which uses WhatsApp, Twitter, Face book and You tube.