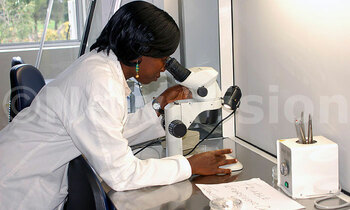 PIC: A researcher inside a biotechnolgy laboratory at the National Crops Resources Research Institute, Namulonge. (File photo by Tony Rujuta)

BIOTECHNOLOGY | LEGISLATION

KAMPALA - Parliament again deferred debate on the controversial National Biotechnology and Biosafety Bill 2012, pending further consultations.

The bill which was number seven on the order paper was not considered by the House after deputy speaker Jacob Oulanyah, who was chairing the House, told MPs that it would be put off the order paper for further consultations.

"This bill should not be put on the order paper tomorrow [Wednesday]. I have been informed that there is need for more consultations," Oulanyah told the House amidst applause by the MPs.

The piece of legislation that has been before parliament for six years now is meant to provide a regulatory framework to ensure safety in research and development of modern biotechnology in Uganda.

It is also aimed at providing for development and general release of Genetically Modified Organisms (GMOs) in the country.

Biotechnology is one of the methods that scientists have utilized to improve crops to tolerate or resist some diseases like Banana Bacterial Wilt and Cassava Brown Streak Disease.

Over the years, scientists have endeavored to provide appropriate varieties to help farmers cope with the diseases, which are causing great losses in form of reduced or no yields and income.

In his speech on World Food Day last year, President Yoweri Museveni urged Parliament to pass the National and Biotechnology and Biosafety Bill.

Just like President Museveni, in March this year, farmers under the Uganda National Farmers Federation, called upon parliament to quickly pass the Biotechnology and Biosafety Bill 2012, to support research.

The country's agricultural development efforts are supported by research to seek solutions to challenges such as pests and diseases and a whole range of other hurdles, develop high yielding varieties and better farming practices.

Government established the National Agricultural Research Organization (NARO) and staffed it with scientists charged with finding ways to overcome different agricultural challenges.