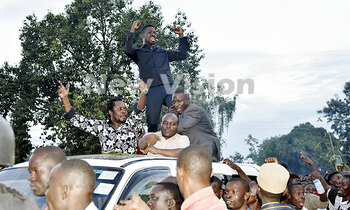 (Photo credit: Roderick Ahimbazwe)

KYADONDO EAST BY-ELECTION

KAMPALA - Robert Kyagulanyi Ssentamu, best known as Bobi Wine, has taken the Kyadondo East seat after he was declared winner by the Electoral Commission Thursday evening.

The musician-turned-politician beat his four challengers including NRM's William Sitenda Ssebalu, FDC's Apollo Kantinti, and independents Nkunyingi Muwada and Dr. Sowedi Kayongo Male.

After tallying up the votes from the 93 polling stations across the constituency, Electoral Commission returning officer Francis Nkurunziza, announced the final results and declared Kyagulanyi winner at 9.42pm local time.
Bobi Wine garnered a winning 25,659 votes, Ssebalu got 4,566 votes, Kantinti managed 1,832 votes, Nkunyingi had 575 and Kayongo received 377 votes.

The number of valid votes was 32,999, the invalid ones were 311 and 41 votes were spoiled. The total number of votes cast was 33,310.

"The first thing I want to do is to reconcile the leaders of Kyadondo East," said Kyagulanyi, after being declared victor.

"I want politics to bring us together," he said, just like music does.
The conclusion of Thursday's by-election saw the seat, which fell vacant after court nullified Kantinti's 2016 election as the area MP, citing irregularities by the Electoral Commission, re-occupied.

Moments before the announcement of the final results by the Electoral Commission at the Ssaza grounds tallying centre in Kasangati, Bobi Wine, sat inside the hall with a scarf wrapped around his neck, said his victory party had long started.

He said the party had started right there in Kasangati, in Kamwokya, in Busaabala (where he has a beach) as well as other areas.
A first-timer in elective politics, Bobi Wine had in the run-up to election day expressed confidence that he would rise to the occasion and take a seat previously occupied by rival Kantinti before a successful court petition saw him pave way for a by-election.

Indeed, he emerged the victor from a den featuring two major party representatives in Ssebalu and Kantinti, and two fellow independent hopefuls.

Despite the dramatic episodes that unfolded later on Thursday, Bobi Wine's vibrant supporters had started celebrating eventual victory long before the tallying of the votes.

In the run-up to the announcement of the final results, the FDC party conceded defeat through secretary general Nathan Nandala Mafabi and FDC politician Dr. Kizza Besigye congratulated the MP-in-waiting.

Out in the streets, supporters of the musician jubilated an impeding triumph even before the official announcement.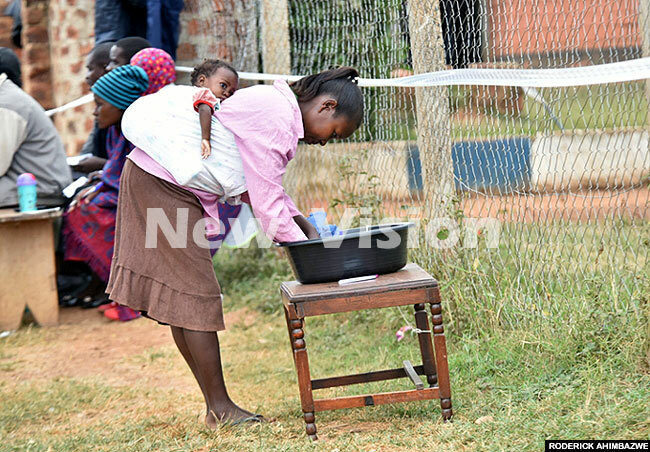 Blemishes

But an election day that had started largely peacefully would later be soiled by a series of chaotic episodes involving locals and security personnel, particularly around Kasangati Country Resort where voters claimed there was intent of vote rigging.

Particular incidents saw NRM chairman for Wakiso district Abdu Kiyimba forced out of a polling station and also candidate Nkunyingi blocked from voting at a polling station because his name was not on that particular voter's register.

The latter physical altercation led to Nkunyingi's arrest and detention at Kasangati Police Station and later him reportedly hospitalized due to injuries said to have incurred during the melee.

Other clashes saw security operatives in running battles with reported trouble makers. Security, with Kampala Metropolitan police commander Frank Mwesigwa in charge, was ramped up to calm the potentially disastrous aura.

Bobi Wine, who had an eventful last day of campaigns on Tuesday, was the first of the five candidates to cast his ballot at Magere, where his home is.


Ssebalu followed, after which he said he would return straight home to wait until after voting.

The events following his 'sit-down' protest saw Nkunyingi fail to cast his ballot. Kantinti did not vote as he was not a registered voter in the constituency.

Dr. Kayongo, donning a white coat, cast his vote. The day before, he had predicted that he would win the election with 80%.

Bobi Wine joins another musician in the 10th Parliament: Judith Babirye, Woman MP for Buikwe district.


ALSO RELATED TO THIS STORY

As it happened: Kyadondo East election

Kyadondo East race: Bobi Wine arrested

Freed Bobi Wine calls for calm