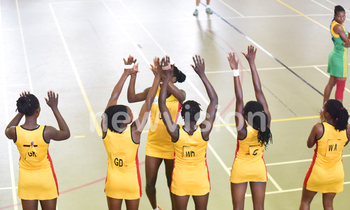 The She Cranes have overcome the odds and put themselves in pole position to win gold at the Africa Netball championships.

Uganda defeated defending champions Zimbabwe by 61-45 to end the latter's hopes of defending a title they won in 2015.

Coach Vincent Kiwanuka elected to go with Stella Oyella at wing attack to pair Peace Proscovia at goal shooter.

The point was to counteract Zimbabwe's tall goal keeper Kandadara Christine and goal defender Kwangwa Felistas who used her body well against Proscovia.
Mubiru's decision was a master stroke because Oyella greatly helped the heavily marked Proscovia with shooting duty especially in the first quarter.

The first five minutes of the first quarter were the difference for the She Cranes because they took advantage of a number of loose passes from their opponents.

Their crisp passing, intuitive play, organisation and defence were a sight for sore eyes. That paradigm by the girls especially at the beginning of the first half created the blueprint with which they played.
With the second half came a few changes, Desire Obua replaced Halima Nakachwa and Rachael Nanyonga came in for Oyella who helped with stretching the lead.

Nakachwa earned her much needed rest because she was the one player who had played every minute of the first three games.

Zimbabwe centre Patricia Mauladi saw herself ordered off (sent off) for constantly fouling her opponents. She had earlier in the second half been sent to the sin bin by the umpire.
Mauladi's foul on She Cranes centre Betty Kizza was one too many and she was sent off with five minutes of play to go. Captain Siyachitema Perpetua took over centre duty for the remainder of the match.

After the incident, it was more a case of game management by Uganda who had already done enough to win what should have been a tough match with ease.

Zambia is next for coach Vincent Kiwanuka's girls on the penultimate day of the Africa netball championships.

While the host will want a clean sweep of the competition the latter will try the difficult task of taking Uganda down in their own back yard.