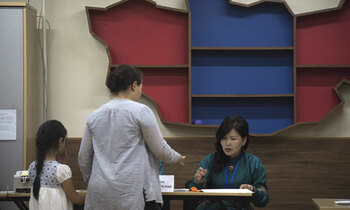 PIC: A voter registers her names before casting her ballot at a polling station during the Mongolian presidential election in Ulan Bator. (AFP)

ELECTIONS

Mongolia will hold its first ever presidential runoff vote on July 9 after none of the three candidates secured an absolute majority in an election marred by a "sabotage" attempt, electoral authorities said Tuesday.

The result of Monday's vote was put off by several hours, angering supporters of the losing candidate who protested the delay as suspicious.

The drama capped a campaign marked by corruption scandals plaguing all three candidates that overshadowed voter concerns over unemployment in the debt-laden country wedged between Russia and China.

Former judoka Khaltmaa Battulga of the opposition Democratic Party finished first with 38 percent of the vote, the General Election Committee said, well short of the 51 percent majority needed to win outright.

Parliament speaker Mieygombo Enkhbold of the Mongolian People's Party (MPP) finished second with just over 30 percent of the vote.

Enkhbold edged Sainkhuu Ganbaatar of the Mongolian People's Revolutionary Party (MPRP) by just 0.1 percentage point after he had trailed in the early vote count.

Members of the MPRP held a protest at the General Election Committee office early Tuesday, said the head of the electoral body, Choizon Sodnomtseren.

Sodnomtseren defended the delay in announcing the result, saying someone had broken a broadband cable in Gobi-Altai province, preventing the results from several polling stations to be counted until Tuesday morning.

He said it was an act of "deliberate sabotage".

The delay angered Ganbaatar's MPRP, which sought to break the domination of the main parties.

"The General Election Committee intentionally delayed the reports from the polling stations," Erdenebileg Erdenejamiyan, a senior MPRP official, told reporters hours before the results were announced. "We believe they are changing the results."

Slew of scandals

On Monday, Mongolians voted in the capital, the country's sprawling steppes and even in yurts serving as polling stations.

"I didn't like the campaigns, I felt like I had no one to vote for," Batbayar Nyamjargal, 24, said after voting at a polling station next to a playground in Ulan Bator.

"I thought about the decision for a long time, and I'm still not 100 percent sure I made the right choice. All three of them had issues."

The resource-rich nation of just three million has struggled in recent years with mounting debt.

The next president will inherit a $5.5 billion bailout led by the International Monetary Fund and designed to stabilise its economy and lessen dependence on China, which purchases 80 percent of Mongolian exports.

But voters heard little from the three candidates about unemployment and jobs, their top concerns according to opinion polls. Campaigning has instead focused on their opponents' allegedly shady pasts.

A video showed Enkhbold and two MPP officials discussing a $60 billion tugrik ($25 million) plan for selling government positions.

Battulga, a brash businessman, was haunted by reports of offshore accounts attached to his name, as well as the arrests of several of his associates by Mongolia's anti-corruption body last spring.

And Ganbaatar appeared in a video in which he allegedly received a $44,000 donation from a member of the "Moonies", or Unification Church, a South Korean-based Christian group that critics consider a cult.

All three rejected the allegations against them.

'Like watching a bullfight'

The campaign was also marked by moments of anti-Chinese sentiment. Enkhbold published his family tree to rebuff claims that he had Chinese blood.

Several voters described the campaigns as "dark" and accused the candidates of using smear tactics to distract from real issues.

"The biggest problem is that Mongolians don't trust each other. On my Facebook, all I see is fighting. We should be harmonious and civil to each other. We need a president who can unite us," said Nomuna Gankuyag, a recent graduate of Seoul National University in her 30s and an Enkhbold supporter.