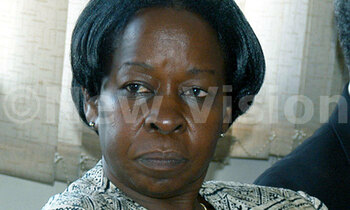 DEATH

KAMPALA - Former minister of tourism in the Ugandan government Maria Mutagamba has died of liver cancer at Case Clinic in Kampala.

She was 64.

It is understood she had been undergoing treatment at the health facility for the last two weeks.

Mutagamba served as tourism minister from 2012 to 2016, before being replaced by Ephraim Kamuntu.

Besides her vast ministerial experience, she also previously served in parliament as Rakai Woman MP.
In 2015, US model Marlina Moreno visited the country on a quest to profile Uganda's major tourism attractions. She is pictured here with then-tourism minister Mutagamba at the entrance of Rwenzori Mountains National Park
Before taking the mantle at the tourism, wildlife and antiquities ministry, the Rakai-born minister served as minister of water and environment from 2011 to 2012.

At the time, she was representing her home district in parliament as Woman MP, a seat she had taken up right from 2001 (until 2016).

Growing up, Mutagamba did her O-level studies at St. Aloysius Senior Secondary School in Kalungu district from 1967 to 1970.

She later attended Mt. St. Mary's College Namagunga in Mukono district for her A-level, from 1971 to 1972. And after her three years of studies at Makerere University from 1973, she graduated with a Bachelor of Arts in economics.

Mutagamba in 1997 obtained a certificate in executive leadership from the John F. Kennedy School of Government in Cambridge, Massachusetts, US.

In her early career, she worked with the Bank of Uganda as a banking officer (1976 to 1980) before several years later becoming the director of the bank for eight years until 1999.

In party politics, she served as deputy secretary general of the Democratic Party (DP) between 1999 and 2000, before being appointed state minister for water resources and later minister of water and environment.
In this early 2000s picture, DP's former deputy secretary general Maria Mutagamba is seen being introduced at a Movement referendum campaign rally by Prof Gilbert Bukenya after her defection to the Movement
Mutagamba taking oath during her swearing-in as minister of water and environment
In this August 22, 2008 photo, President Yoweri Museveni shakes hands with water Maria Mutagamba at a meeting at UMA Show Grounds
I am saddened by the news of Hon. Mutagamba's passing on. She served her country and made her mark. May Her Soul rest in peace #RIPMutagamba

— Charlotte Kemigyisha (@Charlie_Kemi) June 24, 2017
Hon Maria Emily Lubega Mutagamba who served as Tourism Minister from 2013-2016 succumbed to liver cancer @CaseHospital #RipMutagamba pic.twitter.com/6o0wTT4bKC

— Tourism Uganda (@Tourismuganda) June 24, 2017
Hon. Mutagamba will be remembered for her contribution to sinking valley tanks and dams in karamoja while still Min of water. #RIPMutagamba

— Solomon Serwanjja (@SolomonSerwanjj) June 25, 2017