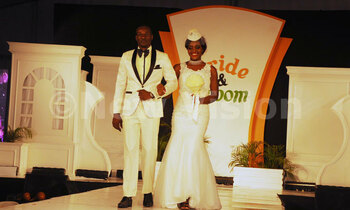 The Bride & Groom Expo, Uganda's premium wedding exhibition started on a high with couples flocking the Uganda Manufacturers' Exhibition hall to grab the opportunity to plan their wedding in a day. The over 100 exhibitors tirelessly put up impressive stalls of cakes, bridal gowns, décor, photography, lingerie, perfumes, wines and spirits, music, make up and jewelry.


Apart from having the opportunity to plan their wedding in one day, Bride and Groom Expo visitors stand a chance of walking away with an all-expense paid wedding.

The promotion dubbed, "Win your fantasy wedding" shall give the lucky couple everything they need to make their wedding success from venue, to décor, to drinks, cake, gowns, cars and many more.

"I hope I win this wedding. It will be a dream come true in this tough economy'', said Naomi Wamala a bride-to-be who had just bought a ticket at the New Vision Stall which is labelled 'fantasy wedding'.


"Bride and Groom magazine in partnership with Sisters Bridal Boutique, Malachi, Suki Outfit Destination, Cake Studio, Pepsi, Muhammed Katende Photography, Prime Rides, Castle Lite, Forest Park, Marasa Africa, Princess of Beauty Salon and Silk Events, is giving away a wedding worth sh80m. People are responding to the promotion. We have someone who bought an entire ticket booklet'' said Hajara Batuuka, the Marketing Manager for Print at Vision Group.

Well, if you want to avoid the hustle that comes with organizing a wedding meeting, make your way to the Expo and buy a ticket at sh2,000.

Apart from having the opportunity to win a fantasy wedding, Bride and Groom Expo visitors stand a chance of winning gifts at several stalls. There is a free hair clinic courtesy of the sponsors Darling Uganda.
Most of the photography exhibitors are giving over 30% discounts for those making bookings at the Expo. There is a free trip to be won courtesy of RoundBob and several discounts on wedding gowns, decoration and cake.

All this is happening at the Uganda Manufacturers Association (UMA) new exhibition hall. Entrance is sh10, 000 only.