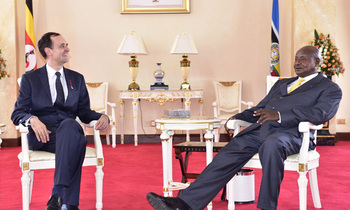 President Yoweri Museveni yesterday held bilateral meetings with some of the leaders who attended the Uganda Solidarity Summit on Refugees that took place at Speke Resort Munyonyo in Kampala.

The President and his Gabonese counterpart, Ali Bongo Ondimba discussed issues of mutual interest between Uganda and Gabon, while the Somali President, Mohamed Abdullahi Mohamed, commended his host for the successful and well-organized Summit on refugees. He briefed Museveni on the current situation in Somalia.

South Sudan's Vice President, James WaniIigga, who congratulated President Museveni for hosting the Summit on refugees, discussed with Museveni the situation in South Sudan.

Later, President Museveni received Burundi's 2nd Deputy Vice-President, Joseph Butore, who delivered to him a message from President Pierre Nkurunziza of Burundi.

The Sudanese Vice-President, Mohamed Hasabo congratulated President Museveni for organising a very fruitful and objective Summit on Refugees. He commended the Ugandan leader for the invitation for the Nile Basin and the Refugees Summits noting that the meetings registered success.

President Museveni also received Algeria's Foreign Affairs Minister, Abdelkader Messahel, with whom he discussed issues pertaining to economic development ties between the two countries.

The European Union Commissioner for Humanitarian Aid and Civil Protection, Christos Stylianides, discussed with the President issues pertaining to the plight of refugees and the conflict in South Sudan. The President, who was accompanied by the First Lady, Janet Museveni, received the United Arab Emirates Minister of International Cooperation, Reem Alhashmy and discussed a wide range of issues on economic development.

The United High Commissioner for Refugees, Fillippo Grandi, commended Museveni for hosting the Uganda Solidarity Summit on Refugees. They discussed the plight of refugees and the situation in neighbouring South Sudan.

Tanzania's Foreign Minister, Augustine Mahiga, thanked Museveni for the Summit on Refugees.