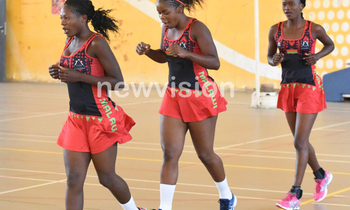 Team Malawi
As Uganda delves into the unknown to host the Africa netball championship, we take a look into what most teams have to offer.

The competition will use the round robin format everyone will verse each other and there will be no avoiding each other. The next three days at the Lugogo Arena promise more thrills than spills if Uganda's friendlies against Malawi is anything to go by.

Zimbabwe

Zimbabwe who is the defending champions of this event and like Uganda has suffered their fair share of financial woes.

Their participation in the tournament was in doubt but now it is time for business. The 16th ranked team in the world gave Uganda a serious scare at the Diamond Challenge in South Africa where they beat Uganda. Retiring captain Perpetua Siyachitema will retire after the competition and wants to cap it off with another gold medal.

Botswana

With the Netball Youth World Cup set for Gaborone in a fortnight, the national women's netball team will be; try netball and catch all the headlines this week.

That looks a little impossible judging by their ranking in the world. They are ranked 18 and will need to produce their best to unseat some of the top teams ahead of them.

Zambia

Zambia along with the hosts Uganda, Malawi and South Africa were Africa's only representatives at the netball world cup in Australia. They finished 14 in the tournament and have regressed as well.

Ranked 15 one ahead of Zimbabwe, Zambia have a lot to prove. They will be led by captain Beauty Nakazwe. Under the experienced leadership of Coach Charles Zulu they pose a threat to the top teams in the competition.

Namibia

After falling out of the world rankings this year, due to lack of international competitions, Namibia will use this competition to get themselves back into the rankings.

They first qualified for the world cup in 1991, in the heydays of INF official Joan Smit and her sisters but have since fallen down the pecking in the sport.

They probably have the least chance to win.