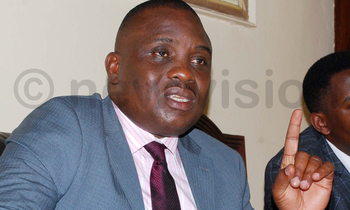 Kampala Lord Mayor Erias Lukwago chaired the council meeting which passed the resolution. Photo by Lawrence Mulondo
After a debate which lasted for over three hours, Kampala Capital City Authority (KCCA) councillors resolved that the KCCA Amendment Bill 2015 be withdrawn from parliament to enable councillors make consultation and also allow them include their input.
"By the time the bill was drafted there was no Lord Mayor in office, no council meetings and there was no elected leadership at City Hall" Lord Mayor Erias Lukwago said while while passing the resolutions.
When tabled in Parliament by the Minister of State for Kampala Capital City and Metropolitan Affairs, Benny Namugwanya recently, the councillors argue that the office of the minister did not consult them and did not allow them give their views.
Namugwanya in May presented the Bill before Parliament, however a committee of the house has not yet been set up to debate the bill.
The Councillors ­also resolved that the bill be withdrawn so that Councillors are given a platform where they can have an input before it is taken to Parliament.
"The bill should be withdrawn with justifications and resolutions of the council attached to it before it is presented to Parliament," Nakawa councillor Happy Nasasira said.
"We find the process used by the minister to table the bill to be inappropriate," Makerere University councillor Doreen Nyanjura said.
The Bill has caused controversy among scores of political leaders in the city including Members of Parliament representing the people of Kampala, the division councillors and their mayors.
During a special council meeting held at City Hall, Lukwago explained that there is need for councillors to interpret and understand the law before it is passed.
"We have never formed quorum in which we have discussed and understood the law as Kampala leaders, we cannot just take the bill to Parliament," Lukwago explained.
Nakawa councillor Bruhan Byaruhanga opposed to Lukwago's move urging that it is a waste of time to withdraw the bill.
The motion was tabled by Allan Nansiima representing Uganda Law Society, stating that the bill be withdrawn with justification and resolutions be attached.
The director Legal affairs at KCCA, Mike Okua, guided the councillors saying that a team of lawyers from the Uganda Law Society will be engaged to ensure that the councillors are educated on the Bill.
The council meeting also resolved that KCCA executive director Jennifer Musisi drafts a letter to Kampala Minister Beti Kamya attaching resolutions of Council, which they expect Kamya to present to Parliament.
The Resident City Commissioner, Deborah Mbabazi, advised councillors to come up with a committee which can ably meet the committee in Parliament.
Namugwanya however maintains that the bill is intended to make the devolution of powers of functions specified, adding it will remove the discretionary powers from the authority.