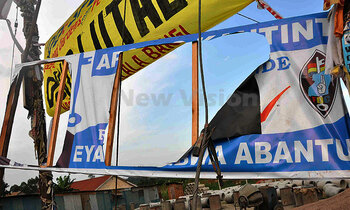 KYADONDO EAST BYELECTION

KAMPALA - On Wednesday, Apollo Kantinti woke up to a rude sight: his large campaign posters had been vandalized.

The posters had his image, as one of the candidates in the Kyadondo East byelection, cut out and those that bore both his and FDC politician Kizza Besigye's images, the latter's had been cut out too.

The metal frames were reduced to holding nothing but tattered canvas.

Kantinti instantly called for a press conference at the party offices in the constituency alongside the FDC national mobiliser Ingrid Turinawe.

He told reporters that this had been going on ever since the campaigns started, but it's only his small posters that were being vandalized.

This time, the vandals had taken it too far, he said, adding that destroying his "expensively-produced" posters was a "cowardly act" by his rival, musician Robert Kyagulanyi, best known by his stage name Bobi Wine.

"This is a cowardly act from my opponents. They have printed posters and pinned them with my party flagbearer [Kizza Besigye] in them. They are trying to associate themselves with him yet he publicly endorsed me and he is a member of my party," said Katinti.
Ingrid Turinawe and Apollo Kantinti were critical of their opponents' "cowardly act"

On her part, Turinawe accused Bobi Wine of fueling this sabotage in the byelection, and although without proof, she went ahead to warn the musician's supporters to desist from doing such.

Bobi Wine, who was campaigning in Nangabo parish, called the reaction a tactical move by Kantinti to divert the attention of the public from his weaknesses in canvassing for votes.

He distanced himself from such politics and said he will not respond to any such accusations, insisting that his posters have always been destroyed although he kept a deaf ear and blind eye.

"They have concocted all sorts of allegations against us but all we can say is that our focus is on convincing voters about our abilities and capabilities," said the self-proclaimed Ghetto President.
Bobi Wine said his campaign posters had also been defaced but that he had kept quiet

'Giants in the race'

Meanwhile, Nkunyingi Muwada, another independent candidate in the race, appeared to agree with Bobi Wine, saying that Kantinti pulled down his own posters to attract media and public attention, in order to get the sympathy vote.

He described the alleged act as a cowardly one and advised Kantinti to stop crying for posters instead of talking to voters.

"Why are our posters not being destroyed? Why are the destroyers focusing on only Kantinti's posters? He is fearing to face the giants in the race and I assure him, it's just the beginning," said Muwada.

As the race hots up, NRM's Sitenda Ssebalu, who was campaigning in Masooli parish at Kiwalimu village where he was born, said that as the opposition candidates hike their conflicts and wrangles, Kantinti should prepare to pay the sh400m court fine he was ordered to pay after losing the election petition.

"We are determined to intensify our campaigns especially in the last week with the visit of [NRM chairman] President Yoweri Museveni, ministers and NRM MPs who have promised to come and campaign for me. Let our opponents get ready for a tough race," he told a rally.

Kantinti campaigned in Wampeewo parish, including Magere village where Bobi Wine's home is as Nkunyingi Muwada combed Bulamu parish for support.

On his trail, Bobi Wine was ridden on a motorcycle (boda boda). exciting residents of Nangabo parish who followed after him as many chanted his name and promised to stand by him come voting day.