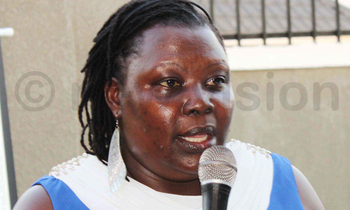 Uganda was one of the countries that were highly affected with AIDS epidemic in the 1980s, but successfully gained international reputation for the significant reduction of the scourge where the prevalence fell from 18% in the late 1980s to as low as 6.4 in 2005 (MOH, 2009).
However in 2011, the prevalence rose to 7.3% (MOH, 2012), meaning Uganda is one of the countries in the world where the prevalence is rising despite various interventions being implemented. It is shocking to learn that 575 adolescents and young women between 15 to 24 years in Uganda get infected with HIV on a weekly basis (MOH report).
UNAIDS's new statistics have indicated that 575 adolescents and young women (15-24 years) have become a vulnerable group who are getting infected much more than others in Uganda. Do not be deceived, these are not girls born with HIV but newly infected every week! When they clock 15 years they become vulnerable to getting HIV.
Quick interventions
It is against this deplorable trend of things that has forced stakeholders to put up innovation approaches to address factors leading to vulnerability of this group of women and make sure that in one way or another they can prevent new HIV infections.
The International Community of Women Living with HIV in Eastern Africa (ICWEA), a regional advocacy network, has teamed up with SAWA WORLD with support from AIDS FOND to embark on training young women in practical skills and give them economic empowerment so that they are able to negotiate as an approach to prevent the HIV infections.
They are implementing a project they termed "Sparked Women" project in a number of districts targeting this group of vulnerable women (15-24) who are unable to be in school for some reasons or who luck basic needs in their lives.
Sparked Women project is part of a bigger program called DREAMS- Determined, Resilient, Empowered, AIDS-Free, and Safe- a PEPFER program that was started on with the intention of reducing new HIV infections among young women.
According to Lillian Mworeko, ICWEA Regional coordinator, the project is being implemented in Mityana, Mubende and six other districts with the aim of creating employment opportunities for those young girls, hoping that if they are empowered economically they will be able to safeguard themselves against the new HIV infections.
The innovation has six training options and girls are given an opportunity to learn a number of options. They are taken through all the six options and each trainee is free to choose whatever feels simpler for her. The options are making usable sanitary pads, making paper bags and books, juice making and making soap.
Mworeko says that the whole aim and ultimate goal is to see that these young women are making some small income on their own without engaging in behaviour risks that could increase the spread of HIV. After they have been taken through training, they will be able to go back on their own and start up small income generating businesses on their own.
"We are hoping that after they have been empowered with skills they will start dealing in whatever they have leant and be on their own. These girls have various needs including simple ones like pads. The moment they have small incomes they will be able to make informed decisions whenever they are challenged. They will not engage in risky behaviour that could bring them closer to new infections if they are making small money," says Mworeko.
Each training session (day), Mworeko says they train 180 girls and training takes two days. After training ICWEA follows them up to see how they have managed to replicate what they have been trained in. The trainee's success is measured based on how many they have been able to replicate and how many are able to get a small income on their own and how many can sell and get a profit.
Those who will have replicated have some means of income and can support themselves economically, meaning they will not be requesting for cheap things from other people who could cause them problems. ICWEA with partners started implementing this project in February this year and they have so far trained a total of six hundred and sixteen vulnerable girls and women.
She says they want sell this program and make it a model program. Everybody in this country is struggling to deal with HIV but when we bring in the economic perspective everybody, especially young women will be powerful.
Additionally, Health Entrepreneurs which trains village health trainers (VHTs) for five days and after training the VHTs are expected to market simple medical supplies which they go around selling so that they also make some little profits from whatever they will have sold.
Testimonies
Safina Namuyomba, 20, a resident of Mityana is one of the girls who have got economic empowerment after going through the innovations. Her life has been transformed and in her own words, she says, "I cannot imagine how my life would be without SAWA WORLD and partners."
Namuyomba says she was not working but was just seated idle at home until she came to know about the Sparked Women project through a coordinator who told her about the innovations. She was trained in book and paper making and today she has started her own business.
She is the proud owner of Shauhustina Book makers, a business of making books along Mityana-Mubende Road. She named the business after her first born two-year old daughter. Her initial starting capital was UG sh 200,000 which she saved through washing people's clothes in her village.
She rents a space at 80,000 per month and she makes books, paper bags and she also does book binding. She started barely five months ago but she says her business is today worthy UG 900,000. She says the sky is the limit for her.
As for the 19-year old Fiona Nakayiza from Zigotti, she is learning how to make juice and she says she cannot wait to see herself a boss of her own in a few days from today. After mastering the skill, she plans to make a contract with a local hotel in her area, making nice juice for their customers.
Deborah Mutesi, 21, is learning how to make sanitary pads for herself, her family and also for commercial purposes. She says she has mastered the skill and what is remaining is to put in practice what she has learnt. "My target is to start a sanitary pad factory in 10 years' time," she dreams.