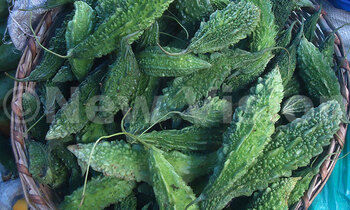 (Credit: Ruth Nanfuka)

HEALTH | BITTER MELON

With its bitterness comes a number of health benefits.

Bitter melon, locally known as kiswa, is a bitter fruit but with a high demand on the local market.

If you are being bogged down by a hangover, the edible and medicinal fruit is a good recommendation to deal with it.

According to Patrick Mutagubya, a nutritionist in Wakiso, bitter melon, which is native to Asia, Africa and parts of the Caribbean, has intoxication properties.

Hangover comes with a lot of symptoms like dizziness and headaches.

"Calcium and magnesium that is contained in bitter melon can help prevent and relieve headaches," says Mutagubya.

Alcohol consumption affects the liver and more consumption weakens the functioning of the liver.

Mutagubya says bitter melon juice has the power to cleanse and repair as well as nourish liver problems.

Locally, the fruit is mainly grown in places of Wakiso and it is on-season at the moment.

Justine Nakubulwa, a trader in Nakasero market, says: "Bitter melon is fairly available on the market and the demand is impressive".

She says the prices range between sh2, 000 to sh3, 000 a batch of four bitter melons, and during off-season, that price hikes to the region of sh4,000.

But Nakubulwa is quick to note that the price does not do much harm to the demand.