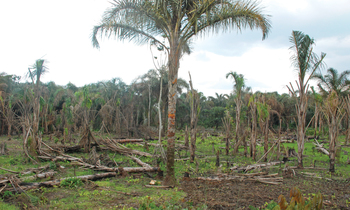 The National Forest Authority (NFA) range manager for forest reserves around Lake Victoria, Leo Twinomuhangi, says there are several illegal land titles issued to high-profile individuals linked to various government institutions, including security.
He confirms that the land grabbing syndicate has nearly defeated NFA and swallowed the country's leadership, which has acquired numerous land titles in protected areas.
As a consequence, Twinomuhangi, observes that land grabbing syndicates aided by the corrupt area land committees and district land boards as well as the entire land administration system have rendered NFA powerless and some of its employees have left things to fate.
A lorry found carrying timber harvested illegally
BITTER REALITY
In a rare confession loaded with frustration, which has been previously expressed by other NFA officials, including Michael Mugisa, the authority's executive director, Twinomuhangi says there is no solution to the conservation challenges the country is facing today if the land grabbing and unpatriotic syndicate is not broken up.
"Civil servants cannot change anything if the same system that is employing us is failing us. The issue of encroachment on protected areas is getting complicated and I want to tell you there is no simple man with a title in a forest reserve. These are big people with power," he adds.
Twinomuhangi explains that forest reserves around the lake in Mukono district, including Namatiwa and Bukaya in Buikwe have numerous illegal titles, and that the titles in the protected areas which government published in the media recently are a tip of the iceberg.
"There are people with titles in protected areas who cannot even be published. They see their names and knock them off the list. But some of the high-profile people's names do not even appear on titles. They have people whose names appear on titles and have given them powers of attorney over that land. But there are also documents behind making it difficult for some with powers of attorney to dispose of that land," Twinomuhangi says.
Asked to name at least some of the people with titles in the forest reserves, he says all that one needs to know is that there are many (titles) and they are not held by small people.
"What don't you know? I think you need to do deeper investigation. But how will you access the land registry? The media has tried, but it has limitations. The syndicate has swallowed State House and claim some of the land it has grabbed is for investors supported by State House," Twinomuhangi reveals.
Recently, several title registrars deployed at the land ministry headquarters and zonal offices gave Saturday Vision (on condition of anonymity) inside information on the shady land transactions they have approved under duress.
They mentioned titles they have been compelled to create illegally for, among others, a senior cabinet minister, a former lands minister and a general in the army.
The title registrars also revealed they have, on some occasions, been threatened for challenging applications for titles from high-profile persons, and that some of their colleagues have lost jobs in the process.
"This is a country blessed by nature, but cursed by greed. It shows you how people hate their country, but the worry is the actions of the greedy guys are affecting us all and the coming generations. To address the governance question, one has to dissolve Cabinet, Parliament and Judiciary," Twinomuhangi states.