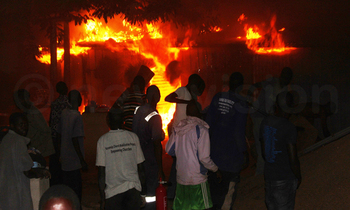 A mysterious fire razed down Hotel Leslona store on Saturday night in the heart of Moroto Municipality destroying goods of unknown value.
The items that were destroyed in the 11pm inferno included building materials worth millions of shillings, crates of soda and beer, packaged water, food and electrical appliances.
At the scene several good Samaritans struggled to put out the fire using sand and dust but it was all in vain as wind fanned the flames as high as six metres. A few guests had to relocate fearing for their lives and property.
The Regional Police Commander Mt. Moroto Region, Aruk Richard Maruk, said he suspected arson was responsible for the incident.
"I do not want to say that the fire was sparked off by electricity," he said adding that either it was an arsonist or someone lit a candle and left it glowing in the powerless store. He however said the fire brigade acted very fast to contain the fire.
"By the time we got there, most items had been reduced to ashes, but we managed to save core investment," Aruk noted.
He called on the management and neighbours at the hotel to be calm as Police investigates the incident.
Luke Lokuda, the proprietor of the facility could not be reached for a comment.
Hotel Leslona becomes the first hotel to suffer a fire outbreak besides Camp Swahili along Moroto - Kitale road which has been gutted twice in the last two years.