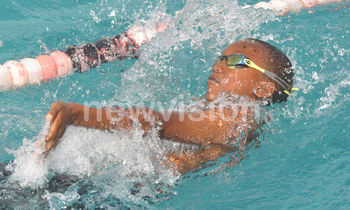 Combined team scores - Top 5

Seals Swim Club 3,606pts

Silverfin Academy 3,466

Dolphins Swim Club 3, 208

Supra Swim Club 991

Gliders Swim Club 616

Individual accolades

8 & Under

Girls - Amelia Mudanye (Seals) 82

9-10 Years

Boys - Jethro Mugisha (Silverfin) 73pts

Girls - White Heather (Silverfin) 160pts

11-12 years

Boys - Jason Malan (Silverfin) 172pts

Girls- Kirabo Namutebi (Dolphins) 162

13-14 years

Boys- White Reuben (Silverfin) 160pts

Girls - Mercedes Mwebeiha (Silverfin) 123pts

15 & over

Boys - Tendo Mukalazi (Dolphins) 134pts

Girls - Avice Meya (Silverfin) (172pts

Individual - Patrick Rukundo (K'la Aquatic) 100pts

DStv Kids Ambassador

Husna Kankundakwe (Malta Swim Club)

Inspired by 8 year old swimmer Amelia Mudanye, Seals swim club amassed 3,606 points to celebrate loudest as the third edition of the USF DStv Inter- Club Championship ended at Kampala International School of Uganda (KISU) on Sunday.

Mudanye stood out in the newly introduced 8 and under category to help her side defend the championship they won from the same venue last year. She was part of the girls' team that topped the girls' team scores with 2,010 points, a feat that stengtheen their championship claim.

But it was the Silverfin that finished second overall, which produced the best individual performances, winning six of the nine individual medals.

Mudanye stood out in the breaststroke races winning the 25m race in (23.44), 25m back (23.08), 50m breast and 100m Individual Medley in 1: 46.26. Daya Yalonda Mpeera chipped in with golden performances in the 200 and 100m butterfly races in 2:50.51 and 1:16.93 respectively.

But probably the swim of the tournament was produced by Alexis Kituuka (1:18.41) when she beat the more experienced Selina Katumba (1:18.67) in the 100m butterfly race, by 26 micro seconds.

Despite producing a few golden performances the Seals did enough grabbing several silver and bronze positions to win.

National swimmer Avice Meya, White Heather, White Reuben and Jason Malan stood out for the Silverfin while third placed Dolphins were inspired by their ever green swimmers Kirabo Namutebi and Tendo Mukalazi, Ben Kaganda, Darren Ssamula and brothers Erisha and Joshua Ekirikubinza.

For competing with a disability (one hand) against the rest Malta Swim Club's Husna Kankundakwe (Malta) was picked as the DStv Kids Ambassador after the two-day event and consequently walking away with a DStv Explorer decoder.

Next on the USF calendar is the Seals International Invitational due July, 6-9 at Kampala Parents School pool.