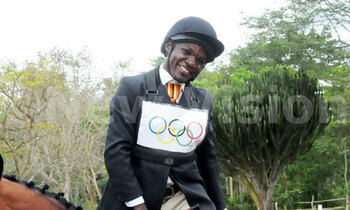 Flametree Stables won't be the same again after losing one of their most experienced and loyal horse instructors / stable manager Robin Kasumba early this week.
Kasumba passed on as he played football with his team at one of the schools in Kijabijo, Gayaza on Tuesday.
According to Miranda Bouser, the proprietor of the stable, Kasumba, 30, who was the Frametree stable manager and one of the most talented local horse riders, had a heart defect according to a postmortem carried after he collapsed.
"He was playing football with his colleagues when he died. We are traumatized; it is a big blow," Miranda said.
More condolence messages poured on the Flametree Facebook page for the late who loved horses, and was buried in Masaka on Thursday.
"Impossible to put in words what Robin meant to us; his infectious smile, his unbreakable spirit, his sheer love of horses and the utmost desire to ensure that everyone he taught felt the same way he did. He always had an encouraging word even in the most trying of situations. I smile now as I can hear him shouting, "legs, legs, legs, shoulders, back….breathe!" Nicole Hamilton wrote.
"Absolutely tragic, he was a true horseman and so talented. All my love to his family; every Saturday morning he greeted me with the warmest smile. Flametree wont't be the same without him," Sally Wittrick added.
"Robin was the best teacher I've ever had. If it wasn't for him, I wouldn't have loved horse riding as much as I do. You will always have a place in my heart and the stables will never be the same without your warm smile and encouraging advice. You will be greatly missed by all," Eva van Asten, remarked.
"My heart breaks to hear this news…though we only went to Flametree for a little while; I have never forgotten his great talent and warm sliling face. Much love to his family," Ronin Taylor.