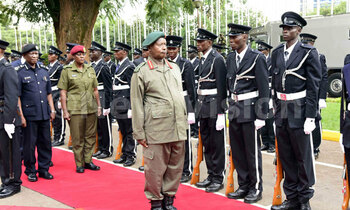 President Yoweri Museveni upon arrival at Serena. PHOTO/Kennedy Oryema

Teaching and non-teaching staff at all public universities will have a pay raise in the next financial year with a sh19.6b allocation in the national budget for their salary enhancement.

It comes after government fulfilled a pledge to increase Primary Teachers' salaries by 50%. A total of sh2.5 trillion has been allocated for the education and sports sector.

The pay raise is one of measure undertaken by government to address numerous challenges faced by the sector, which gets one of the biggest budgets.

Finance minister, Matia Kasaija, noted that the sector still faces a host of challenges that include declining proficiency in literacy and numeracy, skill gaps, infrastructure deficits, teachers' absenteeism and cases of 'ghost' pupils/students that distort budgeting for and release of capitation grant.

In order to improve education service delivery, government was embarking on curriculum reform with an emphasis on science, competency and life skills.

Kasaija listed the improvement of learning facilities at tertiary institutions such as laboratories and workshops, and focus on practical skills for youth as priorities for the sector in the coming year.

In the year 2017/18, government will also build 12 new seed secondary schools in sub-counties and rehabilitate dilapidated primary schools and traditional secondary schools, the minister stated.

Civil works at Soroti University, a new institution will be completed to enable operations to commence next year, Kasaija pledged while Lira and Kabale universities have now been accredited.

At least 840 staff have been recruited and posted to the 20 technical Institutes under the Skilling Uganda programme. Students will now register using their national IDs to eliminate ghost students.