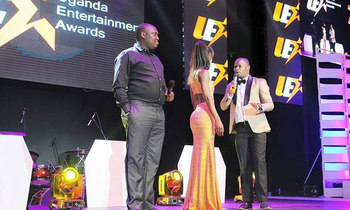 When the Uganda Entertainment awards happened in 2015, it was on a low. There was finger pointing, a string of mishaps, and so forth. As such, there was a general feeling that they would die. No, they did not. They are still alive, very much alive and going into their third edition. It is good thing to write about.

To give them more life, Vision Group has given them a huge boost. During a launch party at The Kampala Serena Hotel, Vision Group's, Joweria Nabwuma, made an announcement that the media company has injected 300M.

Kab's Haloha who is the C.E.O of Haloha Architects, the organisers of the awards says: "Our theme this year is; Dance to The Beat. We want to shake up things in the entertainment field. And under our theme, we will be celebrating East African dances and beats. For a long time the two things have been at the bottom of the arts ladder. Our goal is to elevate them."

As if that is not exciting enough, Haloha also says they have set aside a cash prize of 2M to accompany their accolades. However, the prize only applies to a few select categories.

The awards show is scheduled to take place on September 9, at The Kampala Serena Hotel. It will be hosted by Malaika Nyanzi, together with DJ Slick Stuart and Roger.

Nominees will be announced soon.