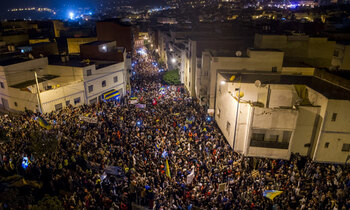 PIC: Thousands of protestors crowd the steets of the northern Moroccan city of Al-Hoceima, during a demonstration demanding the release of Nasser Zefzafi, head of the grassroots Al-Hirak al-Shaabi, or "Popular Movement". (AFP)

A general strike gripped the northern Morocco city of Al-Hoceima, rocked by a week of nightly protests demanding the release of the leader of a popular movement.

Thousands of people demonstrated in the port city for the seventh straight night after a strike that saw nearly all of the shops in the city centre shuttered.

"This three-day strike is the result of what is happening here, the marginalisation of a region that is only asking for its daily bread," a shopkeeper told AFP.

Al-Hoceima, a city of 56,000 inhabitants, is in the neglected Rif region, which has been shaken by social unrest since the death in October of fishmonger Mouhcine Fikri.

The 31-year-old was crushed in a rubbish truck as he protested against the seizure of swordfish caught out of season.

Since then protests have snowballed in Al-Hoceima, sparking a wider movement demanding more development and railing against corruption, repression and unemployment.

Nasser Zefzafi, who emerged as the head of the grassroots Al-Hirak al-Shaabi, or "Popular Movement", was arrested along with others on Monday after three days on the run.

His mother, in remarks to a Moroccan television on Thursday, urged King Mohammed VI to show clemency and release her son.

Late Thursday around 2,000 people protested, shouting slogans such as "freedom for prisoners", while holding pictures of Zefzafi.

The demonstration ended around midnight, with no reports of violence.

A shopkeeper earlier said the strike would go on "until our prisoners are freed".

The mainly ethnically Berber Rif region has long had a tense relationship with Morocco's central authorities, and was at the heart of Arab Spring-inspired protests in 2011.

'A message to our king'

Nawal Benaissa, one of the public faces of the Popular Movement, was among three young women at the nightly protest on Wednesday who led calls for prisoners to be freed.

On Thursday morning, she said she was called in to the police station in Al-Hoceima and questioned about the call to strike.

The 36-year-old mother of four was seen leaving the building again a short time later.

By mid-afternoon most of the shops in the city centre were shuttered, apparently in response to Benaissa's call for a strike.

Policemen were deployed on the main square and police vans were stationed in side streets, empty of pedestrians save for small groups of youths.

"Anyone who threatens shopkeepers who are still open will be arrested," a local official warned.

The strike was also observed in the neighbouring towns of Beni Bouyaach and Imzouren, a resident said.

"Today, it is the entire population that is on strike. It is a message to our king, Mohammed VI, so that he comes to Al-Hoceima," said another shopkeeper.

Prime Minister Saad-Eddine Al-Othmani discussed the unrest with the interior minister and said the Rif "is at centre of the government's preoccupations", the official MAP news agency reported.

'Stay peaceful'

Zefzafi was detained along with others on Monday for "attacking internal security", after a warrant for his arrest issued Friday sparked turmoil in Al-Hoceima.

A new video of Zefzafi has been posted on social networks, apparently recorded shortly before his arrest, in which he says: "My brothers, the moment is very sensitive... Stay peaceful, above all."

Out of around 40 people reported arrested on Friday, including core members of the grassroots Al-Hirak al-Shaabi, 25 have been referred to the prosecution.

Their trial began Tuesday but was pushed back to June 6 at the request of their lawyers, who have complained their clients were ill-treated during their detention.

Seven suspects were released on bail and another seven were freed without charge.