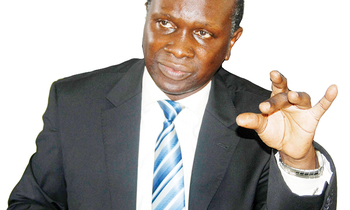 By Daudi Migereko
Uganda's target is to nearly double its income within the coming three years from the current GDP of $25b to about $45b. On average, every Ugandan is expected to be earning $1040 then, up from the current $780.

For this to be attained, we must develop and instil confidence in all the key stakeholders, particularly policy makers and implementers, that Ugandans can be made to work and attain these numbers. Secondly, the Government must put in place a programme that is strictly monitored and supervised to deliver on local content/Buy Uganda Build Uganda (BUBU) policy.

To do this, leaders, policy makers and implementers will need to be sensitised on local content/BUBU policy, its benefits and how other countries have attained economic transformation and self-sufficiency using such policies. It is this that will drive the growth numbers high up and hence per capita incomes. The private sector has been challenged to realise these outcomes and is apparently yearning for support in order to meaningfully make a contribution to this noble goal but also to ensure their own survival.

Uganda's recent drive to launch the local content policy and now the private member's Bill before Parliament sponsored by Nsamba, Ariko and Mbabali to operationalise the policy are in this same direction. It would be illusionary to think that Ugandan companies can grow using regional or global markets and not the domestic market.

The Chinese, Indians, Europeans and Americans acquired expertise and attained excellence by first providing solutions, goods and services to their domestic markets. America under President Donald Trump today is substituting for imports including labour. This means that even the AGOA market and the EBA market, etc. are all going to shrink in favour of the local entrepreneurs in these markets.

When you follow recent election debates in America, UK and Europe, you realise that many world economies are becoming more protectionist. The ethicacy and implications of this needs to be given serious attention. What is clear though is that countries like Uganda are to lose vital markets, unemployment will be compounded, foreign exchange earnings will fall and our GDP growth is going to be negatively impacted.

We already have a problem of trade imbalance; with our imports standing at $6b against exports at about $3b. Without factoring in the strongly emerging protectionists and anti-globalisation drive, IMF projections have now put our GDP growth at 3.5% down from 6%. Given the NRM economic track record, this is unprecedented but reversible. All key stake holders in the economy must burn the mid night candle to generate solutions, produce goods and services to overcome this situation.

In light of these developments, much as Uganda is a late comer, on BUBU and local content matters; we must be steadfast in implementing this policy without any barriers.

There are dissenting voices that have come up to make Ugandans think that this is the wrong way to go. Key policy makers, business leaders and technocrats here in Uganda are castigating BUBU in the name of regional integration, lack of capacities, standards and competitive pricing of our products.

The argument that our local content /BUBU policy will retard progress of the East African integration/unification agenda is misleading. Those who are familiar with integration movements in the world will agree that success has always depended on visionary political, military and economic leadership. Uganda has so far done very well by way of providing visionary political and military leadership in Africa.
This now needs to be complemented with similar success on the economic front. This can be to a great extent achieved by actualising the local content/BUBU policy. Indeed this will pave way to the badly needed innovation agenda, resource development, and optimal resource utilisation/allocation and jobs creation. This adds impetus to the integration agenda.

As regards to capacity, standards and pricing, which are critical in marketing our goods and services under the local content/BUBU policy; the most important thing is being able to create opportunities for our local manpower, companies and entrepreneurs.
Secondly, is to establish a rigorous programme of meeting targets, supervision and monitoring. These can be enforced following a regime of incentives and sanctions.

We must start, especially with areas that we can easily win over. This will require all of us Ugandans to get this to work with no room for skeptism. Either by persuasion or coercion. We must all appreciate the benefits of local content/BUBU policy and support the same whole heartedly.

The best example is that of the iron and steel industry where we have high quality iron ore which needs to be processed to produce the badly needed steel for our infrastructure projects such as the Standard Gauge Railway (SGR), bridges, hydro power stations, the Oil refinery, Oil pipeline, etc.

What is true for iron and steel industry in also true for lime and cement industry. Cement and steel are now most critical inputs for the infrastructural projects we are undertaking. Therefore, sourcing locally would entail huge forex saving, jobs creation and would create critical effective demand in the economy.

The opportunity and the necessary incentives should be given by the Government to our local entrepreneurs and companies to produce and supply these projects.
It will help us to enhance the requisite capacity, let alone become competitive from the pricing and standards point of view. The benefits; both immediate and long term, will be unimaginable. Besides this is the only way we shall be able to repay our loans.


Many foreign investors come to Uganda and Africa with the back ground that local content focus is a must. In America, local content issues were first attended to, in the Buy America Act of 1933.
In Australia the local content policy was passed in 1948 to benefit the automobile industry. In Malaysia and Trinidad and Tobago emphasis of local content is as old as the oil industry in those countries. In South Africa, there is the Black Economic Empowerment policy.

We, therefore, only need to have clarity of purpose, positive attitude and the confidence that Ugandans can make a meaningful contribution.
Otherwise, to continue side-lining Ugandan entrepreneurs and Ugandan products, for whatever reason, will not only raise questions in the minds of foreign investors who expect local participation but will also lead to a huge loss to the economy and the country. Incidentally, this can help us minimise the unchecked outflow of funds that would otherwise be ploughed back in the economy.

Uganda's public procurement market has now been assured by the Government and the only question we all face is What does the market want and what capacities do we have to satisfy these requirements?This is what should bother policy makers and business leaders, not whether the policy is ill-fated.
To answer this challenge, we must strengthen the way we partner, collaborate, support institutions and build joint ventures as well as consortia within the private sector.

Government MDAs, especially the accounting officers and procurement professionals must also understand and appreciate the rationale of the local content/BUBU policy because most often than not, good policies are let down by individuals that are entrusted to implement them.

Meanwhile, all businesses must be required to register, work with the PPDA to understand the bidding processes and Government should ensure timely payments in order not to constrain business cash flows.

More importantly, the Ugandan decision makers and elite must appreciate the fact that, given the emerging protectionist policies in the world today, we no longer have any easy options.
We must, therefore, aggressively pursue innovation, utilise the resources we have optimally and avoid the temptation of over depending on the goodwill and support provided by our friends to sustain our infrastructural development programmes. We should only seek recourse to these in order to catalyse our efforts and programmes.

The latest reports concerning our trade imbalance, the performance of the economy and GDP growth figures should compel all of us to support the local content/BUBU policy as a major intervention aimed at revitalising our economy. This could have a transformative impact on our economy and spur jobs creation.

The writer is a former minister and currently is with the private sector