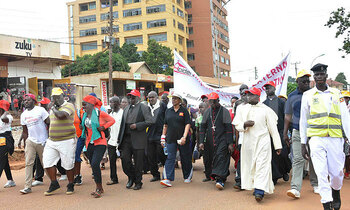 PIC: Bishop Vincent Kirabo (middle), Uganda Tourism Board PS Doreen Katusiime and other walkers near Kirundu Hospital during the Martyrs walk from Munyonyo to Old Kampala Parish. (Credit: Juliet Lukwago)

KAMPALA - Ahead of the Uganda Martyrs Day celebrations due this Saturday, Christians from the Diocese of Hoima alongside the Catholic Church in Uganda and Uganda Tourism Board marched in a second symbolic pilgrimage known as 'The Walk of Faith'.

Archbishop of Kampala Dr Cyprian Kizito Lwanga flagged off the walkers from Munyonyo Martyrs Shrine.

While doing so, he said: "This spiritual journey has been organized to enable our Christians today to experience the Martyrs' pain and their last moments on earth in a commemorative walk."

Lwanga also welcomed all pilgrims from Hoima diocese and called on pilgrims to strengthen their faith and not be ashamed to make the sign of the cross in public.

He also welcomed the First Deputy Prime Minister Moses Ali who represented Prime minister Dr. Ruhakana Rugunda and the bishop of Hoima, Vincent Kirabo.
The chairman of the organizing committee Fr Joseph Mukasa Muwonge from Namugongo was also part of the group.

On his part, Fr Jude Ssemmambo, who is in charge of publicity, said the Uganda Martyrs Day celebration is intended to promote Uganda Martyrs trail further.

"The symbolic event is part of the grand plan for the Church to organize such a pilgrimage every year to Namugongo by people from all over the world," he said.

The pilgrims made two stopovers at strategic places - Denis Ssebuggwaawo's place in Munyonyo and Kyamula at the place where Ponsiano Ngondwe was killed - for a moment of prayer.

Thereafter, they proceeded to their final destination St. Matia Mulumba Parish for Holy Mass led by Bishop Kirabo together with Archbishop Lwanga.

Fr Voltek aka Male, the parish priest of Munyonyo, said that this place is where the first three Christians, namely, St. Denis Ssebuggwawo, St. Andrew Kaggwa and St. Pontiano Ngondwe were killed on May 26, 1886.

Munyonyo is also the place where the majority of the Uganda martyrs started their journey to Namugongo for death. Some were killed along the way while others were burned alive at Namugongo.