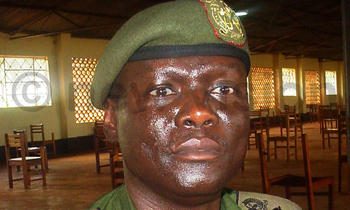 The High Court has summoned Brig Gen. George Igumba to appear in court to give evidence in a case in which a former General Court Martial defence lawyer accuses the Uganda Peoples Defence Forces (UPDF) of forcefully retiring him from the army.
The deputy head of the civil division, Judge Margret-Oguli Oumo, issued the directive after Maj. (rtd) Ronald Iduuli through his lawyers Noel Nuwe and Kassim Kigongo demanded that the General appear in court so that he is subjected to cross-examination.
"Whereas your attendance is required to give evidence in the said suit, you are hereby required to appear before this court today (Monday)," Oguli directed.
She warned that if Brig. Igumba, the UPDF Chief of Personnel and Administration fails to comply with the order without lawful excuse, he will be subjected to the consequences of none attendance laid down under Rule 12 of order 16 of the Civil Procedure Rules.
According to the rule, the court may, where the person does not appear impose a fine not exceeding one thousand shillings and may order his or her property, or part of it be attached and sold.
Iduuli dragged the Attorney General (AG), Maj.Gen. Musanyusa and Col. Gordard Busingye through Ojok Advocates to court, seeking a declaration that his forceful retirement and refusing to pay him his retirement benefits, including pension and housing allowances was unfair, unconstitutional and illegal.
Iduuli says he was removed from the army without referring to either an instrument from the Commander in Chief, President Yoweri Museveni, who was the appointing authority or a message from Chief of Defence Forces, Gen. David Muhoozi.
According to Iduuli, he was unfairly retired from service on a misrepresentation that he had voluntarily applied for retirement whereas not.
"I seek court declaration that retiring me from UPDF without a retirement application or consent, when I have not yet attained the mandatory retirement age was unconstitutional and illegal," he contends.
Iduuli, who joined UPDF in 1998, served as defence lawyer at GCM since 2014 until July 25, 2016, when he handed over office to Maj. Asha Patra as directed by the Chief, legal services.
He therefore demands payment of sh591m in compensation as pension, payment for lieu of untaken leave since 1998, unpaid housing allowances for the last eighteen and half years of military service and unpaid transport allowances.
Iduuli also seeks general and punitive damages inform of lost income from the time of retirement till when he would have attained retirement age, interest of 24 percent per annum from date of retirement till payment in full and costs of the suit.
Iduuli faults Col. Busingye for forwarding his name to the Commissions Board for retirement, well knowing that he had never applied for retirement and does not fall in any of the prescribed retirement categories.
In an affidavit sworn by Brig. Igumba, he states that Iduuli disobeyed lawful orders when he refused to attend the Junior Staff Course and instead opted to retire voluntarily from the army.
According to Igumba, Maj. Iduuli was not directed to vacate the office of the defence counsel at GCM but another lawyer was appointed by the Chief of Defence Forces (CDF) to beef up manpower and enhance efficiency in said office.
He says the application was filed in court in bad faith and that Maj. Iduuli is seeking to use court to endorse and enforce his wishful pecuniary interests. He prays that the application is dismissed.