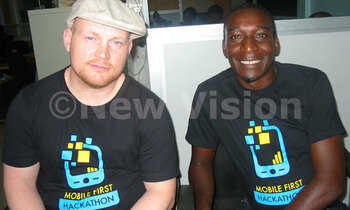 Uganda will host a Hackathon event at Innovation Village in Ntinda from Friday 26 to Sunday 28.

The event aims at exploring the possibility of building a mobile focused developer team in Uganda that is focused on lean and XP practices, continuous improvement, continual delivery, and test driven development.

The app developers will be engaged in developing mobile applications and the candidates who will showcase the best mobile application will pocket sh18m, which is about $5,000.

Traditionally applications were developed for the desktop and later adapted to mobile as an afterthought.

Today, that trend has inverted. With 1.2 billion mobile devices, it isn't merely a trend, niche or something in the future. The event that will be hosted under the theme: "Mobile First" to test what innovators can develop for mobile such as an iOS app, Android app or Responsive Web App.

Henry Damulira the C.E.O of Air Save, a financial technology company and one of organizers, says that this event is a big opportunity for Uganda's app developers.

"Last year under my company, I joined start up competitions under the category of financial inclusions where I represented Uganda and won the Uganda start up cup competitions. From there, we qualified for the African competitions that were hosted in Accra, Ghana in April last year and we became second. Later in August, we participated at world level in the same competitions that were hosted in the US and we became forth," Damulira says.

Adding that he got an opportunity to interact with other app developers in the United States of America looking for opportunities for Uganda and his personal business and that's how he got in touch with the founder of Madrona software company Will Kamp, who accepted to support and nature local talent in software development.

The duo decided to organize an event that will bring together system developers with an aim of choosing the best talents in Uganda that will take on the opportunities in the US where demand for software developers is high.

Linus Wamanya, a board member at Startup Silicon Ventures Africa says that Uganda is a hotspot for technology development and this event will provide an opportunity to IT specialists to have their skills polished.

"Most of the app developers in Uganda work in isolation and they leave out a lot of features in the apps they develop because they don't have people to guide them. We now want to have them converge in one place and equip them with more skills which they can use to develop our country," he says.

Will Kamp says that they are looking to build a developer team locally in Kampala.

He adds: "We are specifically interested in engaging developers who have an expertise in mobile software and back end systems."

How to participate

You must register for the Hackathon as an individual and may compete as either an individual or as a team.

Competing as a team is encouraged but not mandatory. A team should have between two to five members. If you do not have a team, you may optionally indicate that you'd like to be placed in one on the registration form.