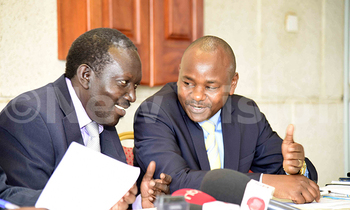 MPs from the Bugisu Parliament caucus have asked State Minister for Gender, Peace Mutuuzo to apologize over what they called abusive remarks on the Imbalu culture.

The angry MPs who hail from Bugisu region said the minister crossed her line when she attacked their culture and asked her to apologize

'Imbalu' is a traditional circumcision custom practiced by Bamasaba people in the five districts of Mbale, Sironko, Bulambuli, Manafwa and Bududa. The Bagisu believe that it is through Imbalu that one graduates from boyhood to manhood. It is also through Imbalu that one is fully accorded responsibilities in Bugisu society.

The MPs said the minister had no knowledge over the Bamasaba culture given the fact that she hails from western Uganda.

"The minister hails from the western part of Uganda, what does she knows about the Bagisu culture. She must apologize," Budadiri East MP Vincent Wabwoya said while briefing the press at Parliament yesterday.

The MPs were Manjiya County MP John Baptist Nambeshe, (a traditional Imbalu surgeon), Bulambuli district woman MP Sarah Wekomba Nambozo, Sironko woman MP Florence Mayoga Wamai and Budadiri East MP Vincent Wabwoya ,

The MPs threatened to go and perform the ceremony at her office if she does not apologize. "If Mutuuzo fails to apologize to the Bamasaaba community, the Bagishu boys have volunteered go and be circumcised before the minister, to show their importance attached to our Imbalu culture," Nambeshe said.

Addressing the media at the Media Center last week, Mutuzo called for a ban on the practice among the Bagisu/Bamasaba of eastern Uganda labeling it barbaric.

This was ahead of celebrations to commemorate international day of family due May 15, 2017 with a theme "Strengthen the Family: Build a Nation".

Mutuuzo said rather than using one knife during Imbalu ceremony, there are hospitals, clinics and dispensaries that carry out safe male circumcision hence preventing the spread of HIV/AIDs.

"The people of Mbale should stop or reduce the dehumanizing the habits of circumcision which are invoking sexuality. The 'Imbalu' culture is really a backward one. It's important for men to circumcise but we would wish to encourage people to do it in a manner that gives dignity to those young men," she said.

When MP Florence Namboze raised the matter during plenary, the Speaker of Parliament Rebecca Kadaga declined to rule on the matter saying the Minister was not in the house to defend herself.

"I don't know exactly what the minister said. Let her come and tell us what exactly she said," Kadaga said.