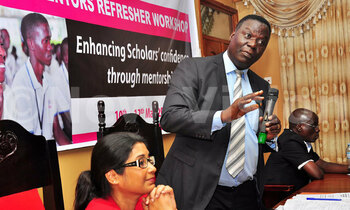 Photos by Juliet Kasirye
The ministry of education, science and sports will revoke licenses and permits belonging to teachers who sexually molest students at all levels of education.
According to the education ministry, this is intended to check and eliminate increasing cases of child sexual molestation in schools across the country.
This was revealed on Friday by Robinson Nsumba-Lyazi the director basic and secondary education at the ministry of education.
Nsumba-Lyazi said this at Ridar hotel Seeta Mukono district during the closing ceremony of a three days teachers' and mentors' refresher training organized by Brac Uganda.
He explained that once investigations are complete, teachers will be tried before the courts of law and once convicted, licenses will be withdrawn from them.
He said this while responding to Dr. Karim Ssesanga, a lecturer at Uganda Management Institute (UMI) in Kampala who said, "We need urgent response to sexual molestation of our children in school."
"Some teachers have lost concentration on academic development among our students, instead they are defiling them something the ministry will fight and instill our professional code of ethics." The director basic and secondary education told journalists at the closing ceremony.
Nsumba-Lyazi blamed students' sexual molesting in schools to head teachers and heads of teaching institutions who have failed to report culprits.
"Some head teachers and school administrations tend to cover up for their colleagues and this fails investigations and this is a challenge to us." he added.
Ssesanga also called upon the education ministry to sensitize student on the importance of Public Universities Joint Admissions Board (PUJAB) forms adding, "may students fill them without knowing the importance and so they do it carelessly."
The application forms are filled by senior six students to join any public tertiary education institution in the country on government sponsorship.
Nsumba-Lyazi explained little emphasis is put on PUJAB forms because some pupils deliberately don't fill them and it's not mandatory.
Ezra Jacob Agwanya a teacher at St. Julian Gayaza in Wakiso district blamed sexual crimes in school to inadequate sensitization of teachers on their code of ethics.
He however agreed with Nsumba-Lyazi that licenses must be withdrawn to protect the teachers' profession from unprofessional characters.
Over 125 teachers from the best performing secondary schools across the country took part in the refresher training.
It aimed at improving standards of teachers and establishment of bench mark for academic talented students from relatively poor families to join the country's best secondary schools.
According to Hanifa Nalukwago a teacher at Katikamu SDA secondary school, said the mentorship and scholarship programme, has helped many students from poor families to go through good schools at no cost.
Hasina Akter the brac Uganda country representative said the sponsorship and teachers' mentorship programmes were established to make work and school more affordable for the poor.