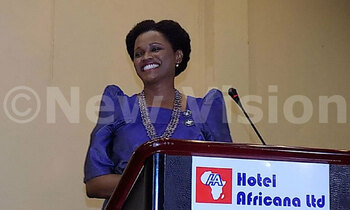 The queen of Buganda Sylivia Nagginda Nabagereka has advised mothers to be at the forefront of raising children in families.
"A mother is the first teacher of any child, the way a child behaves shows how a mother has brought him or her up. As mothers we need to train our children from the start what we want them to become," Nabagereka noted.
She made the remarks while opening the 2017 Buganda women conference at Hotel Africana.
Nabagereka further noted that development in homes only occurs if children are upright.
"It's not about the appearances of members of families but development comes with care, rightfulness, and love for the children. You cannot claim success in a home if your children are not guided well," she said.
She further told parents to endeavor to build their children's thinking if they are to become responsible future leaders.
She related her advice to Proverbs 22:6 that calls for children to start off on the way they should go, and even when they are old they will not turn from it.
Amelia Kyambadde minister of trade, industry and cooperatives, the key note speaker at the event, confessed that mothers no longer have time for their children and must urgently find remedy for the problem if they are to groom future leaders.
"Things are getting out of hand, you are working but you need to be a mother of your children whom you rarely find time for. We move under that pressure, that is the gap we need to fill," Kyambadde emphasized.
The conference that was attended by hundreds of women dressed in 'Busuti' and was graced by popular musician Joanita Kawalya and other prominent mothers.