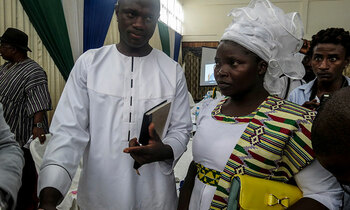 Evangelical preacher Emmanuel Momoh arrives with his wife on May 11, 2017 in Freetown for the auction of the 709 carats diamond he found earlier this year. Momoh's diamond was between the 10th and 15th largest ever found worldwide.(AFP)

Sierra Leone's government said Thursday it would seek higher offers in Belgium for a massive 709-carat diamond found by an Evangelical preacher after underwhelming offers at auction at home.

A Thursday auction in Freetown drew a top bid for the uncut gem - which has a reddish stain that has so far resisted efforts to clean it - of $7.77 million dollars, an AFP correspondent reported.

The prospect of bids not passing muster with the authorities had already previously seen bidding extended once to May 10 at the central bank, where the gem was placed for safe keeping.

Emmanuel Momoh, a 39-year-old pastor who is also one of hundreds of so-called artisanal miners in Kono, Sierra Leone's key mining district, unearthed it in March and handed it over to the government.

Momoh, who remains the official owner, told AFP the diamond was worth far more than bids made to date.

"I want my diamond to be sold abroad so I can get the best price to enable many people to benefit from the proceeds," said Momoh.

"I'm expecting not less than $50 million from the diamond," Momoh stated after attending the auction with his wife and several of his employees.

British citizen Ziad al-Ahmadi, based in Belgium's diamond trading centre of Antwerp and reportedly working for Raydiam BVBA, lodged the $7.7 million bid which failed to match the government's unspecified reserve price, prompting the decision to try again in Belgium.

"We are going to sell the diamond in Antwerp, Belgium, for us to get the best (bid) within the next few weeks," said Sahr Wonday, director general of Sierra Leone's National Minerals Agency (NMA).

Experts say the diamond is between the 10th and 15th-largest ever found and the biggest uncovered in Sierra Leone in half a century.