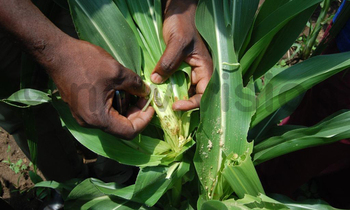 In March, two pesticide brands, Striker and Rocket, were recommended to farmers for spraying to kill the fall armyworm, a species that was ravaging maize fields across the country for the first time.
Known to be resistant to conventional pesticides, the fall armyworms have largely been tamed in areas where the two pesticides were applied.
However, a number of farmers have recently complained that the two recommended pesticides are ineffective against the crop-eating pest.
Dr Opolot Okasai, the director for crop resources at the Ministry of Agriculture said the ministry was aware about the complaints but insisted that the pesticides were effective.
"Such complaints have been brought to our attention but our field tests show the drugs are effective. In areas where the pesticides have been used well, maize crops are recovering," he told New Vision.
The fall armyworm, native to the Americas, was found to have attacked maize fields in June last year in Kayunga, Kasese and Amuru.
By last month, the pest had spread to over 60 districts, destroying half a million tonnes of maize crop, a quarter of Uganda's annual output.
Patrick Matovu, a maize farmer in Luweero district told New Vision that some distributors are selling fake pesticides as demand rises.
"The recommended chemicals are not easily available and what some of the outlets are selling are counterfeit pesticides," said the farmer who grows maize on 10 acres.
Okasai said the ministry was investigating the claims about the sale of counterfeit pesticides in areas where they have been reported, as well as the pest's potential resistance to the chemicals.
Since March, about 20,000 litres of Rocket pesticides are imported by distributors weekly, making it a lucrative venture and an attraction for fraudsters.
A litre for each of the two pesticides costs about sh35,000. One litre can be used to spray two-and-a-half acres of the affected crops.
Unlike the African armyworm, the female fall species lays over eggs up to 1,000 eggs at a time and can produce multiple generations very quickly without pause in tropical environments.
The pest has a wider host range and can attack more than 80 different plant species, including maize, which is a major food staple in sub-Saharan Africa on which more than 200 million people depend.
The loss of maize production in Africa due to the fall armyworm has been estimated at $3 billion in the coming year, according to the Centre for Agricultural and Biosciences International.
The fall armyworm has so far been reported in at least 13 African countries, including all countries in southern Africa except Lesotho and almost all countries in East Africa.