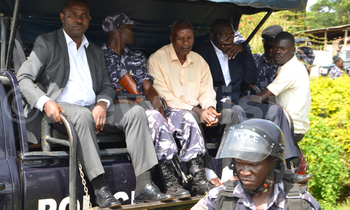 A Week end consultative Democratic Party meeting that had been planned to take place in Wobulenzi town in Luweero District, did not take place after the police arrested three senior District party officials and confiscated tents and chairs.

The meeting that had been planned to take place in Wobulenzi town on Saturday presided over by the party's Buganda region Vice Chairperson Betty Nambooze and it was to be attended by top DP officials from Buganda.

Those who were arrested include Luweero DP district Chairman Erastus Kibirango and his vice David Muzzaganda.

They were by Sunday being locked up at Luweero police station where they were whisked away on a police patrol vehicle immediately after their arrest.

Luweero District Police Commander Paul Wataka who led the team that effected the arrest, accused DP officials and party supporters of holding what he called an illegal assembly without getting permission from the inspector general of police.

Kibirango however insisted that they had informed the office of the District Police Commander in writing.

Chaos broke at around 10 O'clock on Saturday when a police force of about 50 armed police men stormed the venue confiscated the tents and chairs and condoned off the area.

Later on, the police men led by the DPC arrested the party officials who were organizing the event.

There was a scuffle as the DPC and his men bundled the party officials onto one of the five police patrol vehicles which were at the scene.

Former Luweero woman MP Brendah Nabukenya who could not contain her anger and confronted the DPC, accused the police of being used.

The whole Saturday, the place remained condoned off by heavily armed police men who denied everybody access to the place.

Later in the afternoon, top party officials like Meldard Ssegona, who had come to participate in meeting were astonished to find the venue condoned off with no people in presence.