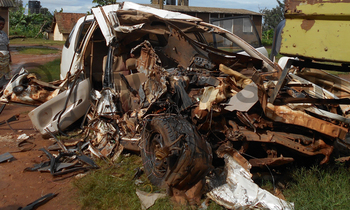 Seven people lost their lives in a Saturday morning accident after a trailer crashed into a Toyota Ipsum car registration number UAS 984 which was travelling to Masaka.
The Greater Masaka Police spokesperson Lameck Kigozi told New Vision that the driver of trailer registration number RL0678 and tractor number RAC 374T which was travelling to Kampala was driving in the wrong lane when the collision with the Ipsum that was carrying 9 people happened.
"Seven of them died on the spot and these were two male juveniles and five male adults. Two passengers were rescued from the Ipsum and were rushed to Masaka Hospital but in critical condition," Kigozi said.
He said the occupants of the trailer fled immediately after the accident happened and Police is hunting for them.
Kigozi added that Police has only been able to identify identified two of the dead as Julius Akabway, 35, and Julius Odeke.
Following a high number of deaths on Masaka Highway attributed to human error, the Ministry of Works and Uganda National Roads Authority in conjunction with Police launched an operation codenamed Fika Salama to tackle the issue.
The operation had a zero tolerance approach to traffic violations on the road and errant drivers were netted. It drastically helped in reduction of accidents on the highway.