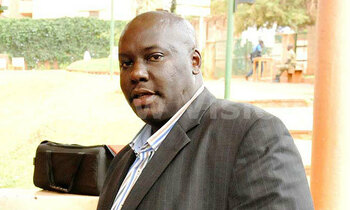 MP Michael Kabaziguruka
The trial of Nakawa Member of Parliament (MP), Michael Kabaziguruka and 23 others, who are battling charges of treason, flopped after the latter was reported absent.
This prompted the General Court Martial (GCM) presided over by Lt. Gen Andrew Gutti to adjourn the case to May 16, 2017 for further hearing.
The accused are battling treason charges, an offence which attracts a maximum penalty of death upon conviction.
The accused are Capt Andrew Ojaa, Cpl Geofrey Idro, Cpl Raymond Drachiri, Pte Jacob Obua, Pte Christopher Omony, Pte Geofrey Amude, Pte Shafik Masembe, Rtd Pte Bilal Asuman, Cpl Emmanuel Tibesigwa, Cpl Justine Elwelu, Pte Ibrahim Angola, Pte James Matagi, Pte Lucy Achan, Pte Paul Oguti, Pte James Byamaka, Pte Ambrose Oonyu, Cpl Justine Elwelu, Pte Benon Tugume, Cpl Richard Odama and L/Cpl Inyan Godfrey.
Prosecution alleges that the accused and others still at large, between February and June 2016 at different places in Wakiso, Kampala and Luwero districts with intent to prejudice the security or interests of Uganda, committed acts of treachery, infiltrated the UPDF and engaged themselves in war-like activities against the government.
Prosecution further alleges that the accused and others still at large in the same months and places plotted to overthrow the government by use of force of arms.