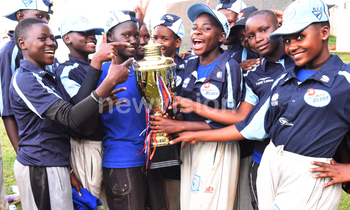 UCA Girls Schools Cricket Week
Selected results
Semi finals
Masaka SS 60/9 Ndejje SS 22/10
(Masaka SS win by 38 runs)
Olila High School 64/8 Jinja SS 65/1
(Jinja win by 9 wickets)
Final
Masaka SS 57/10 Jinja SS 61/5
(Jinja SS win by 5 wickets)
Best Batsman
Mildred Anyigo-Olila High School
Best Bowler
Apio Mary-Olila High School
Best Fielder
Ssanyu Nabaggala-Gayaza High School
Best Wicket Keeper
Esther Iloku-Olila High School
Player of Series
Immaculate Nakisuyi-Masaka SS

Jinja SS is the real deal in the rough and tumble of the UCA Girls Schools Cricket Week!

It was another history rewrite for the school when they claimed their record sixth title following a 5 wickets victory against Yusuf Nyanga's Masaka SS Wednesday at Lugogo oval.

Habib Mugalula is no doubt the most successful manager in the tournament, winning six trophies with the Eastern Uganda outfit.
The winners had all the power to neutralize hitherto a free scoring Masaka SS who had an excellent build up to the final, winning all their games before crushing out in what was expected to be a riveting fixture.

Masaka SS failed to build a good foundation posting 57, to which Rita Musamali and Co found easier to chase. Player of series Immaculate Nakisuyi top scored for Masaka SS with 23 from 30 balls.
But it was Jinja SS' bowlers who made the difference. Stephanie Nampiina claimed 3/11 in 3 overs as Yusf Nanga's Girls were all out in the first innings.

Chasing the game, Claire Mushakamba (11 off 23) and Shubeikah Naigaga (11 off 37) were at the fore as Jinja SS managed to move the score board on 61, sinking what was the fan's favourite team in the fixture.

"I'm proud of the team. Technically the girls have been good, sticking to basics which our opponents lacked. The journey does not end here as we have a lot in our sights including the national league" said Habib Mugalula.coach for Jinja SS.

Earlier in the day, they had revenged against Olila High School, a team that beat them by 20 runs last season. They made subjected Olila to a 9 wickets win courtesy of Sarah Walaza and Brenda Nabisalu's efforts, picking 3 amd 2 wickets respectively.

On the otherhand Masaka SS got the better of Ndejje SS who could not chase the 61 target only for the former to win by a comfortable 38 runs in the second semifinal.

"There is more to expect from the team going forward. We just have to keep working harder. We won't dwell so much on the loss" said Yusuf Nanga, coach for Masaka SS.