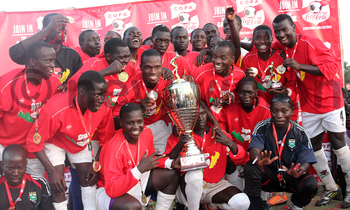 Copa Coca Cola Schools Football Championship (May 6th - 20th)
Ankole region rivals Citizen High School and Sentah College are some the top sides that will compete for honours in the national secondary school's soccer showpiece, COPA Coca-Cola that gets underway this weekend at Masaka Secondary School.
59 schools that qualified from different regions across the country will be expected to arrive in Masaka by Saturday. Screening of the players will be done on Sunday before action kicks off on Monday.
Kibuli SS who are the defending champions won their tenth COPA Coca Cola title last year after defeating St Mary's Kitende in the final.
Since its inauguration, the COPA Coca-Cola football championship has been the breeding ground for future national players like Farouk Miya, Godfrey Walusimbi, Shaban Muhamad and Khalid Aucho among others.
Schools that have qualified
Hosts: Masaka Secondary School
Kampala region
Kibuli Secondary School
Uganda Martyrs High School
Old Kampala Secondary School
Caltec Academy
Kakungulu Memorial School
West Nile region
Arua Secondary School
Nyangilia Secondary School
Kijomoro Secondary School
Acholi region
Bishop Angelo Negri College
St. Joseph College Layibi
Pajule College
Lango region
Aboke High School
Comboni College, Lira
Bright Light College, Lira
Karamoja region
Kotido Secondary School
Teso region
Amus College
Kalaki Secondary School
Soroti Municipal Secondary School
Bukedi region
Buhobe Secondary School
Kibale Secondary School
St. Peter's College, Tororo
Busoga region
Jinja Secondary School
Bukoyo Secondary School
Agape Secondary School
Jinja Progressive Academy
Bunyoro region
Panyadoli Secondary School
Kagadi Academy
Kabalega Secondary School
Tooro region
King Solomon Kyatega
Kasese Muslim Secondary School
Kamwenge Secondary and Vocational School
Ankole region
Citizen High School
Sentah College
Bushenyi region
RyakasingaChe
St. Kaggwa High School
Kigezi region
Kigezi High School
Kabale Brainstorm High School
St. Gerald's Secondary School, Nyakibale
Wakiso region
St. Mary's Kitende
Buddo Secondary School
St. Julian High School
Boston High School, Mpala
Masaka region
Wagwa High School
Green Hill Secondary School, Kyamulibwa
Blessed Sacrament Secondary School
Mpigi region
Bulo Parents Secondary School
St. Francis Secondary School, Busunju
Gombe Secondary School
Luwero region
Mulusa Academy
Nakaseke International College
Kiboga Progressive Secondary School
Mukono region
Dynamic Secondary School
Namagabi Secondary School
Yale High School
Mbale region
Nkoma Secondary
Mbale Progressive
Sironko Progressive
Sebei region
Sebei College