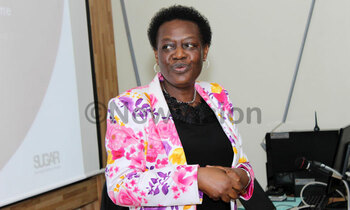 IGG Irene Mulyagonja
Police is yet to complete its probe into allegations that interdicted Nakawa Grade Two Magistrate Agnes Napiyo, over bribe solicitation.
On Wednesday April 26, prosecutor Mikkah Luteete told court at the Anti-Corruption Court in Kampala, that Police is yet to avail the complete file to enable the Inspectorate of Government prepare an indictment.
On April 11, Napiyo was charged with two counts of corruption. Napiyo is charged with corruption which is outlawed under Section 2 and 26 of the Anti-Corruption Act(ACA).
Prosecution purports that this year between March 2 and April 8, at Nakawa Chief Magistrate's Court, Napiyo corruptly solicited sh1m gratification.
She purportedly received the money from a one Amam Vincent Egesa as an inducement to reverse a child custody ruling in his favour.
For count two, it is alleged that on April 8, Napiyo, while at Bonjour Supermarket, Total fuel filing station, in the city suburb of Nakawa, corruptly received gratification of sh700,000 from Egesa.
On the third count, Napiyo is charged with abuse of office, which is contrary to Section 11 of the ACA.
It is claimed this year between March 2 and April 8, while employed as Grade Two Magistrate at Nakawa Court, Napiyo abused authority of her office when she corruptly solicited sh700,000 from Egesa.
The charge sheet shows that Inspector General of Government (IGG) Irene Mulyagonja, has consented to the charges.
How Napiyo was nabbed
According to a source from the IGG's office, Egesa has been battling his estranged wife for custody of their child.
Napiyo allegedly approached Egesa, and told him that custody had been given to his wife but that it could be reversed if he paid sh1m.
A puzzled Egesa approached the IGG for intervention. A trap was later set, and Napiyo reportedly reminded Egesa of the deal. Detectives from the IGG got sh1m, pre-recorded the serial numbers of the bank notes, and gave it to Egesa who handed it to Napiyo at the fuel station.
Detectives who were watching secretly, waited for her to receive the money, before they swung into action and apprehended her.
She is expected to return to court on May 31 for mention and further directives.