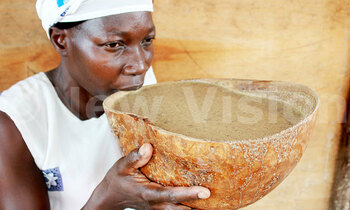 There has been a rapid succession of bad news for Amalwa or Ajon (millet beer) sippers in the country. Forget about waiting forever for President Museveni to deliver his campaign promises to supplement each registered group with sh2m to boost the addition of value to the agricultural produce.

"By last week a korokoro (measure of the beverage) doubled to sh7000," cried Gordon Sanya. "We know politicians make lots of promises that they never honor to win elections. But government ought to intervene or risk malwa sippers resorting to hard liquors which are anti-social and addictive."
Consumers comprise ministers, the business fraternity, civil servants, pilots and those in the forces. They have been bragging about it being the only traditional drink that has survived an onslaught of bottled lagers and spirits on the market.


"A beer now costs sh3000," cries Ronnie Ikara in Soroti. "Forget about the price effect but these ajon groups are meeting places for job seekers and employers. Lonely hearts have found partners around beer pots. Business deals are hatched in ajon pubs. You get relationship counselors there."


According to a brewer Makulata Ikaidu the price of millet has shot up in the recent past as a result of a shortage in millet. The produce available goes to Kenya and South Sudan as well.
"We have resorted to brewing the commercial brew called arasai," confides Ikaidu. "Today if one is to get quality beer they ought to pay sh10, 000. The real beer is Aperoi not a resemblance of yoghurt in Banda, Bugolobi, Nsambya and Kitintale."


Ajon is a drink that has withstood the test of time in the market. It is known to make consumers orators with a poetic flare. This is besides being pocket friendly. Consumers use it as a starter and crown the day with a bottled beer. In the past it has been associated with Police Barracks because the Iteso dominated the force which recruited officers above five feet with good command of English.


Eagle beer and a plethora of spirits are competing for consumers with ajon or Malos among the youths. Consumers are known to have extensive bellies, romantics and peaceful characters. To suit the times, straws are no longer shared and a phrase of one man one machete is coined.


"With TB and poisoning on the increase," confides John Okello at Teso Inn in Lira. "It is the oldest social media the country has had. It has no age limit, income or religious affiliation."