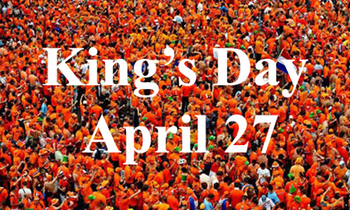 Today arguably marks the biggest birthday party in the world and it happens to be a Dutch affair. April 27 is the birthday of the Dutch king, Willem-Alexander, and all Dutch people in the Netherlands and the world over are celebrating his birthday in what is known as the King's Day. It is a public holiday in the Netherlands.
King Willem-Alexander Willem-Alexander Claus George Ferdinand is the King of the Netherlands. He is married to Maxima Zorreguieta Cerruti and they have three daughters — Princesses Catharina-Amalia, Alexia and Ariane. Willem-Alexander turns 50 today.
He is currently the second youngest monarch in Europe, after Felipe VI of Spain, who is a year younger. Willem-Alexander is the eldest of three children, his follower was Prince Friso, who passed way in 2013 and his youngest brother is Prince Constantijn.
King Willem-Alexander was born April 27, 1967 in Utrecht a city in the central Netherlands that has been a religious centre for centuries. The city also has a medieval old town, canals, Christian monuments and the respected Utrecht University.
The Utrecht born, Willem- Alexander is the oldest child of Queen Beatrix of the Netherlands and German diplomat Claus van Amsberg. He is the first male monarch of the Netherlands in 123 years.
Willem-Alexander was the first male Dutch royal baby since the birth of Prince Alexander in 1851, and the first immediate male heir since Alexander's death in 1884.
He became Prince of Orange as heir apparent upon his mother's accession on 30 April 1980, and succeeded her following her abdication on 30 April 2013. CLICK HERE FOR MORE
ADVERTISER
AFRICAN CENTRE FOR TREATMENT AND REHABILITATION OF TORTURE VICTIMS (ACTV)