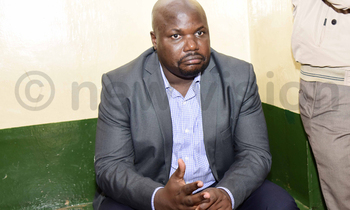 High Court has released the embattled Kawempe South MP, Mubarak Munyagwa Sserunga, who was recently committed to a civil prison over failure to pay sh100m he owes a one John Baptist Maali as a resulting of a botched land transaction.
Court ordered him to pay sh20m on May 2, sh30m on June 2 and sh35m on August 2, 2017 plus sh6m being interest or else the execution for the total sum shall issue.
He paid sh15m in order for him to be released. Part of the money was contributed by former Forum for Democratic Change (FDC) presidential candidate Dr Kizza Besigye.
Munyagwa's troubles stem from a failure to give vacant possession to a piece of land he sold to Maali in 2015. Maali claims that he requested Munyagwa to refund his money but in vain.
It is alleged that Munyagwa through his agent, Meddie Basajja, approached Maali saying he was interested in selling his land at Kyadondo Block 205, Plot 509 in Kawempe measuring 0.316 hectares.
Munyagwa, then Kawempe Municipality division mayor, reportedly confirmed to Maali that the land in question was his and that he had bought it from a one Bakali Sentongo and he was processing its title from Kampala District Land Board.
Maali contends that after Munyagwa's assurance that the land in question belonged to him, they made a sale agreement which was witnessed by Munyagwa's lawyer Joseph Kyazze and his agent Basajja.
He then paid sh100 million to Munyagwa who promised to vacate the land and also give him transfer forms to process the land title.
Court was informed that despite reminders, Munyagwa failed to honour his obligations.